Ronald D. Moore's Disease Outbreak Thriller Helix Gets A Series Order At Syfy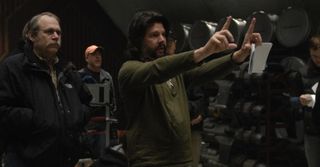 Ronald D. Moore has another series in the works, and unlike 17th Precinct, which didn't make it past the pilot stage at NBC, this one is headed straight to series at Syfy, the network that played host to Moore's remake of Battlestar Galactica and Caprica, the spin-off series that followed. This one isn't about humanoid robots with a plan. Helix is a dark thriller about a possible disease outbreak.
According to Deadline, Syfy has locked in a 13-episode straight-to-series order for Ronald D. Moore's Helix. While the dark thriller comes from Moore through his production company, Lost's Steven Maeda will serve as the showrunner for the project, with Cameron Porsandeh set to write. The series follows a team of scientists who are investigating a possible disease outbreak at an Arctic research facility and end up trying to protect the world from annihilation.
The threat of a deadly disease that could wipe out the planet is not so far a stretch from reality, at least by comparison to BSG, which should make it an exciting concept to explore in a TV series. Factoring in Moore's name and production company Tall Ship Productions, added to Steven Maeda, whose writing credits include The X-Files, Lost, Day Break and Lie To Me, there's already a lot going for this project. Syfy's plan is to start production "early in 2013," which would be about now or very soon, with an aim to get the show on the air later this year. So we should hopefully be hearing some casting news for Helix very soon. With that in mind, I'd like to nominate Lucy Lawless for any role.