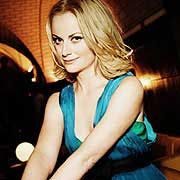 "Saturday Night Live" is a mess. Most of you probably already know that Tina Fey is gone. That alone is a big blow, she's obviously the most high-profile member of the current cast. But did you know that Lorne Michaels is about to fire four other regulars?
The New York Post says Michaels is calling this crunch time for the sketch show. Two new series will debut on NBC this year, based on the behind the scenes drama of "Saturday Night Live". That means all eyes will be on SNL, with people wondering if the real life backstage matches up to that on "Studio 60 on the Sunset Strip" or on Tina Fey's new show "30 Rock".
So that means auditions of key spots in the cast. It means flushing some of the old, failed pollups and moving on to something fresher and (hopefully) funnier. There's no word on who the four fired cast members are, but Michaels and NBC do confirm that favorites like Tina Fey's Update Desk partner Amy Poehler, Rachel Dratch, and Cronic-les of Narnia rapper Andy Sandberg will be back. Darrell Hammond will return again too, to be randomly plugged in whenever they need a funny voice or a guy in a wig. It may however, not a good time to be Chris Parnell. Just a guess.
UPDATE! Here's a list of who they're rumored to be giving the boot: Chris Parnell (scoreboard), Kenan Thompson, Horatio Sanz, Will Forte
Your Daily Blend of Entertainment News