SNL Nabs Medal King For Premiere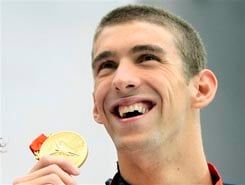 Some of the best hosts of Saturday Night Live have been people who aren't normally on TV, unless it's in the news. Michael Jordan, Derek Jeter, and oddly enough, John McCain were some of my favorites. No matter how you feel about his politics, John McCain was hilarious.
So, the news about the host of this seasons September 13th premiere has me excited. That genius Lorne Michael has scheduled the most successful Olympic athlete of all time – that's right Michael Phelps. According to an NBC Press Release, "Saturday Night Live" makes its 34th season premiere on Saturday, September 13 featuring two of the biggest names of the summer – Michael Phelps and hip-hop superstar Lil Wayne.
I've been watching SNL since 1990 – that's 18 years worth of hilarious-ness. One thing that always bugged me about SNL was the number of shows from the beginning of the season till Christmas. Out of 15 weeks, you might get 7 live shows. Finally, the powers that be have decided that they get better momentum if they air several shows in a row. The same Press Release mentions that "seven all-new SNL's will air on Saturdays prior to the election." Seven before the election!?! Woo-Hoo!
In addition to the beefed up season, ""SNL" is ready for primetime with "Saturday Night Live Weekend Update Thursday." Three LIVE primetime half-hours beginning October 9 at 9:30pm ET. These primetime special editions will be anchored by the show's signature "Weekend Update." This marks a return to the NBC Thursday night lineup for "SNL," which produced similar live "Update"-centered broadcasts in 2001."
I'm pretty excited about all of this. I've stuck by SNL through years of bad cast members, dumb skits and Molly Shannon. I don't consider her to be a "bad cast member" – she's much, much worse. With the current cast, now is a great time to up the number of episodes.
Your Daily Blend of Entertainment News
Thank you for signing up to CinemaBlend. You will receive a verification email shortly.
There was a problem. Please refresh the page and try again.