Sam Raimi Adapting Japanese Anime Noir For Starz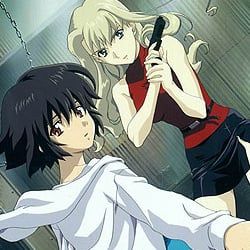 Sam Raimi is finally moving on from the Spider-Man 4 debacle with a project that sounds a hell of a lot more promising, the Wizard of Oz prequel Oz: Great and Powerful, with Robert Downey Jr. likely to star. He's also got plans for directing a remake of the sci-fi film The Day of the Triffids, which would bring him back to his horror roots. But while he's keeping busy, why not add something else to the slate, and a TV project no less?
According to THR, Raimi has gone to Starz with his planned adaptation of Noir, a Japanese anime TV series about two female assassins forced to work together. Stephen Lightfoot will be writing and executive producing alongside Raimi and Rob Tapert. It's unclear how big a role Raimi will play in the actual episode-to-episode function of the show, though it seems like he's more of a larger shepherding force than someone involved in the nitty gritty. Probably for the best, if we want Oz: Great and Powerful to turn out well.
A 2003 review of the original show at IGN described Noir as "an extremely stylistic aim that starts out very promising," and praised the action in particular. Obviously a lot of the style will change in live-action, but anime and genre geeks should have something more than airings of The Matrix to look forward to on Starz.
Staff Writer at CinemaBlend
Your Daily Blend of Entertainment News
Thank you for signing up to CinemaBlend. You will receive a verification email shortly.
There was a problem. Please refresh the page and try again.