Sanctuary: The Complete Third Season Blu-Ray Review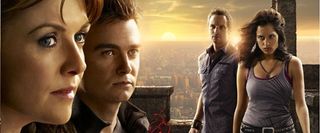 In its biggest season yet, Sanctuary really seemed to find its way in its third year. With 20 episodes to play around with, the writers crafted a season-long story arc that truly paid off with the impressive reveal of a heretofore unrevealed city on a massive scale. The mysteries of what this city is, where it's located, and how Helen Magnus' (Amanda Tapping) father knew about it serve as the driving arc of the season.
It came to be known as Hollow Earth, and the creative forces behind the show found themselves having to create this massive underground city, first for the interactive hologram Magnus and Nikola Tesla (Jonathon Young) to unlock and then finally as a fully realized location. The "Hollow Earth" featurette takes us behind the magic to see how they brought this truly unique landscape to life.
In tying back to the earliest days of the Sanctuary, we find ourselves drawn back to "The Five," the other 19th century luminaries that played around with vampire's blood and turned themselves into something...abnormal. It's always a blast seeing our favorite immortal vampire -- and the last of his kind -- Tesla, along with frequent visitor John Druitt (Christopher Heyerdahl), Nigel Griffin (Vincent Gale), and James Watson (Peter Wingfield). This season, Tesla even earns his own "Character Profile" featurette, talking about why he's such a fan favorite, and how much credit should be given to actor Young.
The episode "Normandy," which shows how ambitious this show can be with a heavy emphasis on green-screen technology, transports the action back to World War II, where we get to see The Five in action, alongside an ancestor of one Will Zimmerman (Robin Dunne). The episode was such a logistical challenge for the crew that it garnered a "Behind the Scenes" featurette all its own, the only episode of the season to receive such focus. With all of Sanctuary's visual effects, it was no surprise they earned their own featurette as well with "Visual Effects of Season 3."
While many episodes show us how the green-screen technology allows Sanctuary to go big with many of its scenes and settings, one of the best episodes is also one of its most claustrophobic. "Breach" sees Helen trapped in an abandoned building with a mysterious teleporting enemy who wasn't Druitt. Her assailant turns out to be a man nearly as old as Helen named Adam Worth (Ian Tracey), who was the inspiration for Robert Louis Stevenson's Dr. Jekyll and Mr. Hyde.
Back in their college days, Adam would have liked to have been the Sixth member of The Five, but he was rebuffed at every turn. But more than that, he has good reasons for his hatred of Helen, and like the best villains, he is convinced he is on the side of right on this one. Adam sticks around as a major thorn in the gang's side throughout the season and even into the currently airing Season Four. And he absolutely has one of the best introductory episodes of any villain yet.
In one episode, Will finds himself experiencing a Kafka-esque metamorphosis which is told largely through his point of view. And then there is the alternate reality that finds Will and Helen as neighbors in a seeming idyllic life. The season even features a clear nod to The Hangover, showing that the writers were clearly taking advantage of this longer season to throw in some lighter episodes. However, all of these seemingly inconsequential episodes reveals the strong connections these people have with one another, making their relationships more believable when the stakes are higher.
Amanda Tapping jumps on board to direct a mid-season episode that doesn't feature much Helen Magnus. Instead, Will's attempt at a first date with Abby goes all kinds of crazy when the two are abducted. The featurette "Amanda Tapping Directs 'One Night''' shows us how she's become an old pro at wearing two hats, and spotlights some of the unique signature shots and moves she's become known for as a director.
On the opposite end of that, and creating a nice contrast, is "Damian Kindler: In the Director's Chair." Kindler is creator and head writer of Sanctuary, but had never directed before this season. So after he was done with all the scripts, he threw himself into the deep end as a novice director by tackling the season finale, "Into the Black."
It's interesting seeing the differences between Kindler's approach and Tapping's style. As an actor, Tapping is very much aware of that aspect of how to make a scene work, whereas Kindler understands these characters and what's going on perhaps better than anyone. It's amazing how a subtle difference in perspective can have such a profound change in the final product.
The music of the show also evolved this season because of the introduction of composer Andrew Lockington. He brought an epic and worldly sound to a few episodes in Season 2, so they quickly locked him up to steer the whole series, and gave him a featurette to introduce him and his unique musical sound to fans with "The Music of Sanctuary."
The Blu-Ray set is rounded out with a Blooper Reel, Deleted Scenes, and audio commentary on seven episodes, featuring many key members of the cast and crew. Finally, Amanda Tapping gives an update on the non-profit organization "Sanctuary for Kids," letting us know how the group is doing and what all those donations have been accomplishing for needy kids both in the U.S. and abroad.
For one of its most ambitious seasons yet, Sanctuary delivers with a solid Blu-Ray set packed with all those stunning visuals and sounds, and wrapped with a full disc of extras that take you all around the television-making experience. It's great to see a show hitting its stride, and even better seeing them reward their fans with a truly all-encompassing viewing experience at home.
Length: 900 min.
Distributor: Entertainment One
Release Date: 9/13/11
Starring: Amanda Tapping, Robin Dunne, Ryan Robbins, Agam Darshi, Christopher Heyerdahl
Directed by: Martin Wood, Amanda Tapping, Damian Kindling, Steven A. Adelson, Mairzee Almas, Peter Deluise, Andy Mikita, Lee Wilson
Produced by: Damian Kindler, Amanda Tapping, Martin Wood, Keith Beedie, Jim Bogusz, Andrea Gorfalova, Carrie Mudd, George Horie, Alan McCullough, James Thorpe, Lee Wilson, Gillian Horvath, Lisa Sepp-Wilson, Mark Lasoff
Written by: Damian Kindler, Alan McCullough, James Thorpe, Gillian Horvath, Miranda Kwok
Your Daily Blend of Entertainment News
Thank you for signing up to CinemaBlend. You will receive a verification email shortly.
There was a problem. Please refresh the page and try again.