Scrub's Sarah Chalke Lands The Lead In New Pilot For ABC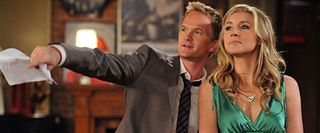 After actress Sarah Chalke stepped down from a main character to a recurring character on Scrubs, the veteran comedian saw a steady stream of comedic work roll her way, including a guest stint on How I Met Your Mother, a couple of TV movies, and, after Scrubs officially ended its run, the spot as the love interest on the short-lived Mad Love, starring Jason Biggs.
Unfortunately, Mad Love didn't work out on CBS. This has left plenty of room for another pilot to come Chalke's way, and come it has. Deadline is reporting Chalke has been tapped, by ABC this time around, for a brand new comedy pilot. Though the comedy is currently rolling with the title How to Live with Your Parents for the Rest of Your Life, that title seems likely to change due to length and general loss of interest by the fifth word. Less Than Perfect consulting producer Claudia Lonow created the series, based on events from her own past.
Chalke is set to play the Lonow-based lead, named Polly. At the start of the pilot, Polly will be going through a tough time, having recently gotten divorced. The multi-camera comedy will see Polly, who is also a single mother, move back in with her parents due to her difficulties. Her parents, Elaine and Max, welcome Polly's little family with open arms.
Hopefully, How to Live with Your Parents for the Rest of Your Life will prove more successful than Mad Love. Either way, TV Blend will keep you posted about further casting details.
Your Daily Blend of Entertainment News
Your Daily Blend of Entertainment News
Thank you for signing up to CinemaBlend. You will receive a verification email shortly.
There was a problem. Please refresh the page and try again.