See The World's Best Boss Cake Made For Steve Carell's Last Office Episode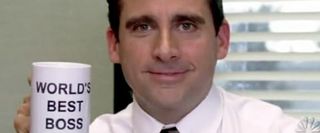 Steve Carell's final episodes of The Office won't start airing until April, but the actor seems to have already left the set for good. So while we're still wrapping our heads around the notion of Dunder Mifflin without Michael Scott, the cast and the crew of the show are already moving on, but not after stopping to celebrate Carell and the seven seasons he's spent on the show.
As tweeted by Rainn Wilson (who plays Dwight, of course), NBC got in on the celebration too, sending along an enormous three-foot-high cake that celebrates one of Michael Scott's favorite desk tchotchkes: the "World's Best Boss" mug. Check out the cake below, and try to imagine just how many branches of Dunder Mifflin you'd have to gather together to eat the whole thing. The first episode of Carell's departure, "Goodbye, Michael: Part 1" is schedule to air April 21.
Staff Writer at CinemaBlend
Your Daily Blend of Entertainment News
Thank you for signing up to CinemaBlend. You will receive a verification email shortly.
There was a problem. Please refresh the page and try again.