Seinfeld's Best Episode: The Race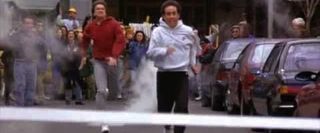 Once again, we're tackling another show in TV Blend's weekly series "___'s Best Episode." Each week a different writer will pick out a different episode of a TV show and argue why it is definitively, absolutely the best thing the show ever did. Arguments will be started, tears may be shed, but we're here to start some conversations and make some arguments for really, really good TV. This week Eric continues things by seeing red as he delves into Seinfeld's best episode. Read below, argue with us in the comments.
It's hard to find a better sitcom than Seinfeld. Running for nearly a decade starting in 1990, the show had some of the greatest writing ever seen on television, iconic characters and some legendary episodes. We all remember the encounters with the Soup Nazi, the amazing guest appearance by Keith Hernandez and the epic trials of the contest, but there's one episode that has had its greatness ignored for far too long: "The Race."
Perfectly balanced as to give all four central characters something to do, tackling a taboo subject that gives the episode a sense of time and purpose, and finally fully embracing the show's central obsession, "The Race" is a truly perfect episode and the best of Seinfeld's entire run.
The show opens with Jerry dating a woman named Lois, whose name he just can't stop saying thanks to his love of Lois Lane. This becomes complicated, however, when he finds out that her boss is Duncan Meyer, an old adversary from high school. Meanwhile, the other three members of the gang are playing with politics, as Elaine starts dating a communist, George answers a personal ad in the Daily Worker that gets him in hot water with the Yankees, and Kramer starts working as a mall Santa with a very RED suit.
Unlike many episodes of Seinfeld that would focus on one or two of the main characters and use the others sparingly, what makes "The Race" so brilliant is how it perfectly utilizes Jerry, George, Elaine and Kramer without feeling overdone. The whole thing is flawlessly balanced so that each member of the group gets their own full story and nobody feels shortchanged. While there are, of course, other episodes of the series that do this, what makes this one so special is the way that the stories are both separate but also intertwined. George has to convince George Steinbrenner that he's a capitalist, but also helps Jerry convince Duncan that nobody got a head start during the big race in gym class; it's Elaine's boyfriend, Ned, that shows Kramer that while his new job may seem great, he's just a tool for the capitalist pigs; and it's Ned's paper that gets George in trouble to begin with. Hell, Lois even complains to Jerry that Duncan "controls the means of production." The whole thing is beautifully crafted and the result is nothing short of phenomenal.
While some might argue that the plot about communism may make the episode seem dated, I'd conversely argue that it shows that the series is a product of its era, and actually manages to create a time capsule effect. A part of the show's sixth season, which aired in 1994, "The Race" premiered almost exactly seven years after the fall of the Soviet Union, but the tenets of National Socialism were still a hot button issue. While the subject is still taboo today, at least to people who think that free health care is a bad thing, Cold War paranoia was still a thing in the mid-90s and is encapsulated in this episode. Most importantly, the humor never feels dated and it's still as funny now as it was then.
The crowning feature of "The Race," the element that secures it as the greatest Seinfeld episode of all time, is the Man of Steel himself, Superman. As every real fan of the series knows, nearly every episode of its nine season run included at least one reference to Supes or featured his image (typically via the statue on Jerry's bookshelf or the magnet on his refrigerator), but this is the only episode that makes the DC Comics legend a key element. Most importantly, it's the Superman references that provide "The Race" with the greatest final scene of the entire series run, as Jerry competes with Duncan to the tune of John Williams' Superman: The Movie score and ends it all with a turn-and-wink to the camera. It's so good, in fact, that I can't help but include the scene below:
Seinfeld is one of the greatest shows of all time and its impact on pop culture can never be questioned. Each of its 180 episodes is excellent in its own way and the millions of fans will always disagree about which one is the best of them all. For me it will always be "The Race."
(*NOTE* I thought it should be noted that when I made this decision it didn't even occur to me that I would be writing about "The Race" during Christmas week. This factor in no way influenced my choice and shall hence forth be seen as nothing more than a Festivus miracle)
Assistant Managing Editor
NJ native who calls LA home and lives in a Dreamatorium. A decade-plus CinemaBlend veteran who is endlessly enthusiastic about the career he's dreamt of since seventh grade.
Your Daily Blend of Entertainment News
Thank you for signing up to CinemaBlend. You will receive a verification email shortly.
There was a problem. Please refresh the page and try again.