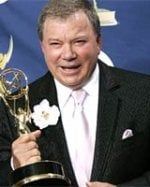 No! Please, no! According to TV.com, ABC has passed on more episodes of the new reality game show 'Show Me The Money.' The show, hosted by the amazing William Shatner, started off doing well in the ratings, but has slipped considerably since its arrival.
ABC initially ordered six more scripts in December, but has re-evaluated the status of the series. For those who haven't enjoyed the "Shat-rageousness" of the spectacle, the game is utterly pointless with the exception of attractive women dancing and Shatner being, well, Shatner.
The game hinges on contestants answering simple pop culture/common knowledge questions and choosing women (very 'Deal or No Deal'-esque) to "show them the money." Each gorgeous woman has a scroll (not a briefcase) with an amount. So, eventually the contestant either amasses a great sum of money by answering questions correctly, or looks like a complete tool on national television. Both of which have occurred since the show took air November 15.
ABC will air the remaining seven episodes that were shot, but it will be moved from Wednesday to Tuesday at 8 PM. From one lover of comedy to the next, the world will miss William Shatner as a game-show host. Bring him back somewhere, somehow, on some channel. The people will watch.
Your Daily Blend of Entertainment News
Thank you for signing up to CinemaBlend. You will receive a verification email shortly.
There was a problem. Please refresh the page and try again.