Shat My Dad Says Is What They Should Call It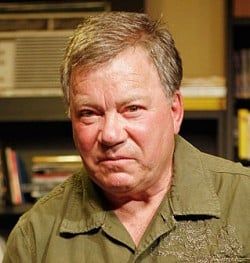 The Shat may well be coming back to network TV. Sure, he's still doing his talk show for the Biography Channel, Shatner's Raw Nerve, but that's nothing to the thought of him heading up the show based on the Twitter page "Sh*t My Dad Says." With Shatner on board to play the dad, the script has quickly gone to pilot, according to The Hollywood Reporter.
I generally try not to get too excited about pilots, as many of them never make it to series, but the thought of William Shatner in this role transcends all sense of reason. For one thing, the man is hilarious no matter what he's doing. For another, no one delivers a line in quite the same way as Bill Shatner. And no one can give as much gravitas to the bizarre utterings the web site offers. His spoken word work alone speaks for itself.
Plus, Shatner is a beloved icon. Sure Boston Legal didn't make it past five seasons, but that's a pretty good run and Shatner's Denny Crane was a huge part of the success it did have for ABC. Now with his name attached, CBS is far more keen to take it to series. It could make a great addition to their solid Monday night lineup, or even a companion to either The New Adventures of Old Christine or Gary Unmarried, if the network is still keen to keep their Wednesday comedy hour afloat. I'd replace Accidentally on Purpose over either of those and put the Shat on Mondays.
Your Daily Blend of Entertainment News
Thank you for signing up to CinemaBlend. You will receive a verification email shortly.
There was a problem. Please refresh the page and try again.