Shatner Heads To Psych For Con Man Role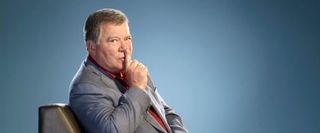 Call it a match made in tongue-in-cheek TV heaven: William Shatner is headed to Psych.
The former Captain Kirk, or Denny Crane to you Boston Legal fans, has signed to guest star on one episode of the clever USA dramedy, which returns to the cable network next fall.
Shatner -- who scored two Emmy wins for playing Denny Crane and, up until recently, was single-handedly holding up the sinking ship that was CBS' $#*! My Dad Says -- will play a grifter who happens to be the father of Det. Juliet O'Hara (Maggie Lawson), reports TV Guide.
USA revealed a bit about Shatner's arc in the episode, describing him as:
Sounds like a solid role for Shatner, who's managed to remain a TV staple for five decades, most recently hosting his must-watch Bio chat show Shatner's Raw Nerve and, of course, starring in that piece of $#*! that CBS cancelled last month.
I'm looking forward to watching Shat join the comedy-drama-crime genre balancing act that Psych pulls so well. Despite delivering five solid seasons, Psych has managed to remain under the radar, for the most part. Here's hoping Shatner's guest spot will help raise the show's profile when it returns for Season 6 next fall.
Your Daily Blend of Entertainment News
Thank you for signing up to CinemaBlend. You will receive a verification email shortly.
There was a problem. Please refresh the page and try again.