The Simpsons 2013 Comic-Con Panel Live Blog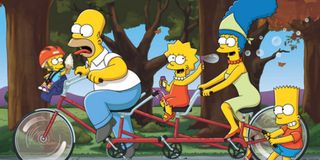 This year at SDCC, The Simpsons is celebrating its twenty-fifth season. Twenty-fifth! A quarter of a century! That's insane a and in attendance for the special occasion are creator and legend Matt Groening, executive producer Al Jean, supervising director Mike Anderson and consulting producer David Silverman. There are probably a few big things planned to mark the milestone but fans are going to get to see never-before-seen footage from guest director Guillermo del Toro's episode, "We Put The Spring In Springfield!" Rad.
12:45 Bill Morrison returns to the stage to bring out the panelists beginning with the behind the scenes talent as well as one of the special guests, the great Tress MacNeille. To begin, the TreeHouse of Horror couch gag from GDT. Back in a second.
12:54 That was crazy awesome. The extended titles featured a lot of homages to horror flicks, including GDT's own Hellboy and Pan's Labyrinth. It's one of the most fun (and longest) of the gags I've ever seen and it must have taken a lot of time to clear all those classic horror characters.
12:57 Without wasting too much time, Jean gets right to the big announcement, the crossover between The Simpsons and Futurama, This was hinted at during the previous panel and now the specifics come out, the Planet Express team is coming to the sister show for this season's finale or next season's premiere. Oh, but before that, Hypnotoad makes an appearance in the aforementioned titles.
1:00 Time for questions! The prizes for those asking are again awesome, the first person getting a Duff Man costume for asking about the theme park. Next, will there be another movie? Jean says nothing is imminent although they are certainly interested when the right script idea comes along. A young man wants to know how Groening came up with the show and he says there are maybe 47 reasons so pick a number. The real answer, or one of them, is the influence of Dennis the Menace.
1:02 How do you stay fresh after twenty-five years? Jean jokes that you just make a crossover before saying that they all draw from their own real lives and families for a lot of the stories. The next person wants to know their favorite characters. Groening likes Lisa (cause she'll end up leaving Springfield), Jean likes the Cat Lady (who is sitting beside him), Anderson likes Mr. Burns or Milhouse. Suddenly they realize that throwing to MacNellie to do voices is the best, so Groening changes his answer to Agnes Skinner. MacNellie herself likes Dolf.
1:05 One final question before the special guest. An odd Canadian dude goes up and asks their favorite prank call before performing his choice. The special guests, you say? A musical group coming out to sing a live version of the opening song. Well an extended and much different version. It's a full on Broadway number mixing a lot of the famous songs from the show with other big TV themes! It's The Simpson Family Smile Time Variety Hour! Mr. Plow! Flaming Moes! Springfield, Springfield! Cletus the Slack-Jawed Yokel! Everybody Loves Ned Flanders! Not me... Love Matic-Grandpa! The Garbage Man Can!
1:19 Turns out they didn't close with the musical number. Time for a few more Q and As. The first person brings up the emotional aspects of Groening's comedy that makes his show's unique. He tries to discuss the death of Futurama's Seymour and almost chokes up. They add that they killed Snowball II but no one cares. Cats. Next up is another clip which has a surprise callback to HoJu! That's Homer junior. They are asked how they feel about the 'Simpsons Did It' ep of South Park and they love it, especially now that Under the Dome is on. Steven King, unoriginal.
1:23 A sweet young girl very eloquently asks if there with be an 'alt universe' installment where the characters play the opposite version of themselves. They just say that it's a good idea. And they have had it for years. Finally, the last question asks what's up with Halloween names? Jean says that it came from reading comics and now they have to struggle to come up with a different macabre name each year. It's tough. Check out the twenty-fifth soon! More music!
Your Daily Blend of Entertainment News
Thank you for signing up to CinemaBlend. You will receive a verification email shortly.
There was a problem. Please refresh the page and try again.