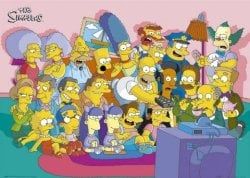 Sometimes job loyalty pays off—even if you have to fight for it. According to The Hollywood Reporter, the actors who do the voices on The Simpsons have just signed a deal that will have them making millions of dollars per season. Contract negotiations have been heated, with the actors asking for nearly $500,000 per episode, over $100,000 more per episode than what they have been making. In the end, the voices of Homer and his family agreed to begin production on the 20th season for $400,000 per episode.
The people who voice the Simpson family, Dan Castelleneta (Homer), Julie Kavner (Marge), Nancy Cartwright (Bart) and Yeardley Smith (Lisa) have been with the show since it debuted as a series of shorts on The Tracey Ullman Show back in 1987. For the first 10 years of The Simpsons and during the height of Simpsons mania, the actors were paid only $30,000 per episode. In 1998 they demanded more money and were almost fired, before coming to an agreement with Fox that raised their paydays to $125,000 per episode. In 2004, they went on strike again, which ended with them earning the $360,000 that they kept until their current agreement was made.
Production on the twentieth season has been cut short due to these negotiations, down from 22 episodes to 20. Even with the episode cut, the castmembers will be walking away with (hold on, let me check my calculator) a whopping $8,000,000 this year—now that's a lot of D'oh! (I couldn't resist).
Your Daily Blend of Entertainment News
Your Daily Blend of Entertainment News
Thank you for signing up to CinemaBlend. You will receive a verification email shortly.
There was a problem. Please refresh the page and try again.