Smash Reaction: 5 Things We Love And 2 Concerns About NBC's New Drama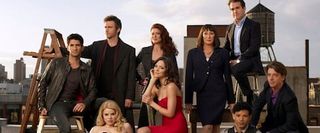 NBC is banking on its Spielberg-produced, Broadway-behind-the-scenes series Smash being a big midseason hit--and frankly, the network needs the ratings. In a move that Showtime pioneered and premium cable programming has seen success with, NBC has released the premiere episode early, to both XFinity cable subscribers on demand and as a download (for free!) via iTunes.
I'll be recapping Smash when it premieres formally on February 6th--today, my friend and I sat down and watched the first episode. It made for interesting viewing; we've both worked in professional theater in different capacities (he refers to himself as "a recovering composer," and I like the term "recovering playwright" for myself), andSmash definitely has the flavor of what it's like to produce a musical, from the "bright lights, big dreams" hopes of the potential leading ladies to the dramatic nitty-gritty fights about where the money comes from. My personal vote? I thought the premiere was pretty good until the last five minutes or so, when it became a no-contest GREAT show and has me pumped for the next episode. My friend abstained from commenting until right after the credits rolled, and then turned to me and said:
"I get it. It's like Glee, but for people with self-respect."
I sort of love that. And I think I'm going to make it a t-shirt or something.
Anyway, we talked it over, and here's the five most exciting things (and one concern!) about the Smash premiere, which you can watch, right now, from the comfort of your own living room. BIG NOTE: THERE ARE NO MAJOR SPOILERS BELOW! It's spoilers-lite, no worries. Watch it yourself if you wanna get spoiled rotten, dear reader!
1. New York is a big part of Smash. There's nothing Disneyfied about how Smash approaches the city in which it's set-- it's got the feel of what it's like to work in the theatrical industries in New York down pat, from the grimy hallways of rented-out audition spaces to gorgeous brownstones in Brooklyn (that are, admittedly, a little too big for reality...) and a great bit of atmosphere in a scene based around a walk through Times Square. Smash is all about the excitement and high-stakes of mounting a Broadway musical, and New York itself is a great character in this episode.
2. It doesn't pull punches in the art versus commercial success debate. I work in arts marketing, advocacy, and fundraising, and last year, a much-publicized editorial in a major newspaper referred to artists as "yo-yos in tutus." Ouch. There's often an undercurrent that artists perceive themselves as special people, sequestered off from the rest of the world and deserving of mollified, special treatment. There's a well-handled scene early on in which a pair of midwest parents come down hard on their daughter about the nature of dreams and practicality. And this becomes a through-line throughout the episode--this is a job, there's money involved, and who's funding "Marilyn: The Musical" and whether or not anyone is going to want to see it is a nice undercurrent of the episode (and, from the teaser at the end, the whole season). It adds a bit of realism and intrigue to the whole package.
3, There's a nice system of juicy interpersonal dynamics already set up. An imminent divorce, a prospective adoption, working relationships gone south, experience versus raw charisma, who's sleeping with who, who wants to sleep with who...I think the cool thing about this show's vast web of characters is that, while there's a ton of them in this first episode, all of them have a reason to be there and you immediately understand what each of them wants and what their place is at this point in the story. It's like the first act of a well-made play...which brings us to...
4. Theater royalty is everywhere on this show. Legendary playwright Theresa Rebeck is Smash's creator and showrunner, and her writing team includes playwriting heavyweights like Jason Grote. Michael Mayer (director of American Idiot) helmed the pilot. Marc Shaiman (the composer of Hairspray) worked on the original music of this season. And then there's the pedigree of the cast...Debra Messing, Brian D'Arcy James, Megan Hilty, Katharine McPhee, Angelica Huston, Jack Davenport, the list goes on and on...this show has stacked the deck with creative professionals who have found success on both stage and screen, and I think it's the intimate understanding of both worlds that makes this pilot feel so vivid. There's also Stephen Spielberg's involvement, which means...
5. This has class written all over it. From Mayer's expert direction to how fantasy and reality flash back and forth and how musical numbers are woven throughout the episode, this show looks and feels expensive, inviting, well-thought-out and produced. The musical numbers are incorporated in gradually more theatrical ways, first as standard audition numbers and Broadway stagings, and then little by little as production numbers that transform into full-fledged movie musical moments halfway-through...only to have one big, bona fide, real-world, suspend-your disbelief, this-is-a-tv-musical moment at the end. It's incredibly well planned out, and it feels like the anti-Glee, in that this is a world in which the music is an organic part of the story as opposed to a whiplash-inducing explosion of song. It all works, and the gradual use of it teaches the audience how to understand the show's visual language in a really neat, simple way. The leads are beautiful and strong...and in a bonus moment of class, it's really nice to see the old Hollywood style "And Introducing Megan Hilty and Katharine McPhee" in this show's media blitz. Yeah, McPhee's a household name and Hilty is a Broadway vet, but this is the first series headlining role for each of them, and it adds to the glitzy feel of Smash. It's a nice touch.
So this brings us to my aforementioned moment of concern...it's easy to see the big, dramatic question of the season is "Which of these actresses ends up as Marilyn?" I know that this episode makes it clear that it's either woman's game, and they're both made likeable enough that it's going to be heartbreaking to watch the other one not get the role...which is sort of the point, I think. I want this show to be a monster hit, and for that to happen, Smash is going to have to find a couple of conflicts bigger than this one to support a season on--we've got a dozen meaty characters and plenty of intrigue. This show deserves a better through-line than "which one gets the part?" and I hope that question is resolved in the first few episodes, so that we can move on to other big ideas as the season progresses.
A mini-concern is that Smash is almost too well-put-together for a place in network primetime. My friend kept turning to me and saying "Wait, this isn't on HBO, or AMC?" Viewership on a network show has to be substantially higher than premium cable, and this show is smartly presented like a premium-cable piece. Is it possible for something to be too "smart" or "good" to succeed in a popular arena? Would it maybe do better on premium cable? Then again, NBC's ratings have more in common these days with cable than with the other big three networks, so maybe this is a moot point.
And with that, I'll leave you to download the episode and let me know what you think. Looking forward to talking more Smash in February with you!
Your Daily Blend of Entertainment News
Thank you for signing up to CinemaBlend. You will receive a verification email shortly.
There was a problem. Please refresh the page and try again.