Smash Review: NBC's Must-Watch Musical Drama Delivers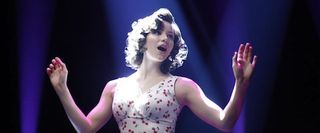 Excluding Glee, musical-TV hasn't really had a history of success. Glee attempted to change that and in many respects, it did. But even as I've begun to accept that the Fox series will probably always put music and dazzle above character development and plot, I was less than enthusiastic about investing more time to this type of series. I thought one was enough for me.
What I found when watching the first few episodes of NBC's Smash is that, while the show does offer a bit of song and some razzle-dazzle (with more than enough musical talent among the cast to support it), there's a story developing in this series and one that's well worth exploring. In short, I finished the fourth episode not only feeling satisfied and entertained by the singing and dancing, but excited to see what happens next. The music may draw people in, but the story is what will keep them coming back.
Written by playwright/screenwriter Theresa Rebeck, Smash is a drama that follows the inner workings of a Broadway production from the beginning of the idea, through the writing, casting and rehearsing process and beyond, from the perspectives of various people involved. Katharine McPhee and Megan HIlty play Karen and Ivy, two young women determined to land the part of Marilyn Monroe in the musical being written by Tom (Christian Borle) and Julia (Debra Messing). While Tom and Julia attempt to find the story they want to tell in their Marilyn musical, Eileen (Anjelica Huston) is looking to produce the play. And Derek (Jack Davenport) gets on board to direct.
As the pieces begin to fall into place, we soon begin to get to know the motivations behind the characters. While McPhee's Karen is young and inexperienced, but very talented, Ivy has more theater training and is due for a part like this. While the story seems set up with Karen as the underdog, Ivy isn't painted entirely as the villain. She's merely a woman who's paid her dues and has worked hard to get to where she is.
Meanwhile, the process of writing the play proves to be a challenge for Tom and Julia, both of whom are veterans to the industry. There's a history with some of the characters that will likely come into play as new relationships, bonds and in some cases, maybe even alliances are formed in this competitive world of theater. Dreams are riding on this production and the better we come to understand the characters, the more appears to be riding on the Marilyn musical.
Coming to understand the characters and what's driving them is what makes Smash a good TV show, in addition to being a drama with great music and a fun look at the making of a Broadway musical. While the musical numbers are great, and worked in relatively seamlessly , there's depth to the story that continues to be revealed with each episode. It works so well that, even if there weren't one or two great musical numbers per episode, this would still be a series well worth tuning in for.
I went into the series already loving Debra Messing, Anjelica Huston, and musicals, so despite my wariness in putting my hopes on another attempt at a TV musical, it's probably fair to say that I'm among the audience NBC's looking to target with Smash. Messing is great, and Huston is typically scene-stealing as Eileen. What's more, both characters are written well and performed well enough to really make this feel like an ensemble cast, rather than a show focused mainly on the Karen/Ivy rivalry. There's a nice balance with how the story is being told that allows us to see that Smash is really a group of stories blended together by this play the characters are involved in.
What's going to have me coming back isn't the stellar acting or the great music (both of which come with this package), but the stories that are unfolding. Smash isn't in a rush to to wow us with drama any more than it is trying to overstuff it's playlist with wowing musical numbers, though there is enough of both to go around. It seems to tread carefully as the characters are set up, motivations and insecurities are revealed, and choices are made for better or worse. Whether the controlled but momentum-building pacing holds out, remains to be seen. In the meantime, Smash is most definitely one to watch for anyone in the market for a great drama.
Smash premieres Monday, February 6th at 10:00 p.m. ET on NBC.
Your Daily Blend of Entertainment News
Thank you for signing up to CinemaBlend. You will receive a verification email shortly.
There was a problem. Please refresh the page and try again.