Spartacus Vengeance's Steven DeKnight On Lucretia, Ilithyia, And Some Season 3 Details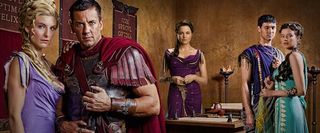 I doubt I'm alone in still grieving the loss of so many characters during last Friday night's Spartacus: Vengeance finale. Series creator Steven DeKnight spoke to the press today about the finale and what's ahead for Season 3. If you aren't caught up on Spartacus: Vengeance, there are major spoilers from the finale mentioned, so stop reading now!
This article does contain some spoilers from Season 3, but they're mostly vague descriptions. Still, keep that in mind before reading on!
We're hoping to get a full transcript of the conversation Steven DeKnight had with the press today, in the meantime, we do have some interesting tidbits to share with you, including DeKnight's story of how he brought Lucretia back from the almost-dead while in the shower, and where things are headed for the third season, including the introduction of Crassus and Caesar, and where they fit historically and dramatically into the series.
Before we get to that, a couple of quick things. First, Season 3 of Spartacus has yet to receive a subtitle, but they're working on it. It will jump forward about six months after the conclusion of Vengeance. Also, there will be three new female characters introduced to the series, but DeKnight was mum on the details there. It also sounds like Saxa (the blonde, German rebel woman) will be featured a bit more in Season 3. DeKnight wouldn't confirm whether this includes a romance with Gannicus, but it sounds like a possibility.
On the subject of Season 3, here's how DeKnight broke things down as far as Crassus and Caesar's involvement in the story, and where the rebels will be.
DeKnight jumped right into addressing potential historical inaccuracies regarding this, stating:
DeKnight describes his series as "historically adjacent," and spoke about putting a "dramatic spin" on historical events...
As for Lucretia, it's likely that fans of hers were disappointed to see her step off the edge of the cliff near the end of Vengeance's "Wrath of the Gods." As much as I'm going to miss Lucretia, and Lawless on the series, it was pretty brilliant moment and a conclusion fitting for such an excellent (and clearly mentally unstable) character. I asked DeKnight about the decision to kill of Lucretia, and he explained that it went back to the first season, when she was originally set to die at the hands of Crixus...
So, apparently, Lucretia was on borrowed time as it was. And instead of her death being tied to her relationship with Crixus as it was meant to happen in Season 1, it was tied to her relationship with Ilithyia. Crixus stabbing her was a shocking moment, but watching her tip backwards off the clip was, as DeKnight put it, "grand operatic fashion." Unfortunately, those of us hoping Ilithyia managed to survive the forced C-section Lucretia gave her, DeKnight confirms that she's totally dead...
A flashback or two featuring the characters in Season 3 would be great, assuming they can find a way to work them into the story fittingly.
One of the other things DeKnight spoke about, which I thought was especially interesting, was the creative freedom Starz gives him and the other writers with regards to the show. He also mentioned getting to work with Joss Whedon. Fans of the Buffy creator know he's another one not afraid to cut beloved characters loose.
Hopefully we'll have the full transcript of the call to share with you soon. In the meantime, we have until January 2013 to speculate (and obsess) over what's ahead for those characters who did survive Season 2.
Update: Full transcript here!
Your Daily Blend of Entertainment News
Assistant Managing Editor
Kelly joined CinemaBlend as a freelance TV news writer in 2006 and went on to serve as the site's TV Editor before moving over to other roles on the site. At present, she's an Assistant Managing Editor who spends much of her time brainstorming and editing feature content on the site.
Your Daily Blend of Entertainment News
Thank you for signing up to CinemaBlend. You will receive a verification email shortly.
There was a problem. Please refresh the page and try again.