A New Star Trek Series Is Actually Coming, Here's What We Know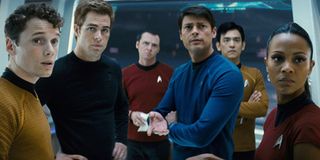 Usually it takes a while for TV projects to go through the development process before a network or cable channel officially picks them up. However, there's been a clamoring for a new Star Trek series for a while, and on Monday the "next chapter" of the Star Trek franchise has officially been announced by CBS. The network said this morning that a brand new Star Trek series is moving forward at CBS and is expected to hit the schedule in January of 2017. Yes, that does seem a little far away at this point. On the bright side: new Star Trek is imminent! How could we not be excited?
Here's what we know about the upcoming series. First, Alex Kurtzman, who co-wrote Star Trek and Star Trek Into Darkness, is going to be signed on to the new series as an executive producer. It's good and well to have Star Trek experience, but Kurtzman is also a big-name producer in the TV realm. He's behind such hits as Sleepy Hollow, Hawaii Five-0 and Limitless. In addition Heather Kadin is also on board as an executive producer. We're a little too far out to know who will be cast in the new series and what its basic premise will be, but we do know a new cast of characters will be introduced "to explore strange new worlds" and "to seek out new life and new civilizations." Plus CBS has already worked out exactly how the series will air, and it totally looks as if the network wants the new Star Trek to help make the network's streaming site more prominent by making it a streaming exclusive. The new Star Trek will also be distributed globally, which is great news if you don't live in the US.
CBS is noting that regular cable subscribers will get the premiere episode of the new Star Trek first, but then the show is heading directly to CBS All Access—otherwise known as that annoying streaming service that charges you $5.99 a month for access to shows like The Big Bang Theory and 2 Broke Girls. In the future, it will also be the home of Star Trek's latest TV venture, and CBS says they are producing the series directly to appeal to users or potential future users of the CBS All Access service. Yes, this means that after the premiere, all first run episodes of Star Trek will only be available through the streaming service. More details on that here.
This isn't the first time that we've heard rumblings about a potential TV series, but it is the first time we've actually gotten definitive news that a TV series is moving forward. About 7 months ago, we heard CBS might have a new show in the works. The possibility made sense. A wide audience tends to enjoy the new Star Trek films even if some strong fans are less enamored. Plus, with the Star Trek 50th Anniversary set to be a thing next year, fan excitement over Star Trek should theoretically be at an all-time high.
Even though the plot is pretty scarce at this point, there are two big things we can take out of CBS' big announcement. First and foremost, Star Trek isn't just in development. It's happening and it's happening sooner rather than later. Secondly, this will be the first time that fans will get to see the Star Trek universe on the small screen since 2005 when Star Trek: Enterprise went off of the air. Yes, it's another reboot/revival/continuation headed to television, but it is one we are very, very excited to see shape itself and move forward to series.
We'll let you know as soon as CBS reveals any new information related to the series. In the meantime, here's William Shatner's fun former idea for a Star Trek 50th Anniversary special.
Amazing Race & Top Chef superfan with a pinch of Disney fairy dust thrown in. If you've created a rom-com I've probably watched it.
Your Daily Blend of Entertainment News
Thank you for signing up to CinemaBlend. You will receive a verification email shortly.
There was a problem. Please refresh the page and try again.