Stargate Universe Preview: Season 2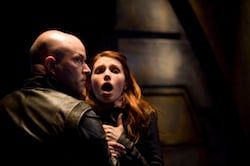 If you're a Stargate Universe fan, chances are, you already know that you're less than a week away from getting to see the premiere of the second season. Read on for details about the season and a trailer.
Syfy has twenty episodes lined up for Season 2, the first of which will air next Tuesday night. Below is Syfy's synopsis for the second season, along with information on the guest stars and further down is the trailer.
Stargate Universe Season 2 premieres Tuesday, September 28, 2010 at 9pm on Syfy.
CLICK HERE to view the 2010 Fall TV Premiere Schedule.
Your Daily Blend of Entertainment News
Thank you for signing up to CinemaBlend. You will receive a verification email shortly.
There was a problem. Please refresh the page and try again.