Steve Carell Confirms Plans To Leave The Office, Wants Surprising End For Michael Scott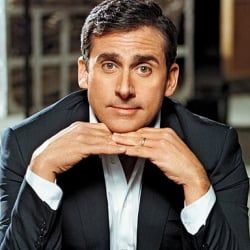 Steve Carell is totally surprised to hear that anyone cared when he hinted back in April that next season of The Office might be his last. Though Michael Scott has long been the centerpiece of the show and Carell is by far the biggest star in the cast, he claimed with typical modesty (via Crave Online) that "it's the show and the ensemble [to me] is what's always been important" and "I was actually surprised that anybody thought it was a big deal."
While making the publicity rounds for the animated film Despicable Me, though, Carell has all but confirmed that he won't be renewing his Office contract at the end of Season 7. "My contract has always been for 7 seasons and I just feel like now is the time for my character to move ahead. I have no doubt that the show will continue and continue to be really strong." Talking to Access Hollywood, he even speculated about what kind of ending he'd like to see for Michael Scott. "I always like when the show surprises people, because [a party] may be what you expect when he leaves," Steve said. "Maybe not tie everything up in a really pretty bow. I like that grey area of life."
Holly Flax fans may need to start worrying too. When the Access Hollywood interviewer mentioned that pretty much everyone wants to see Michael and the character played by Amy Ryan get together in the end, Carell seemed to suggest that would be too easy an ending for the frequently dark Office:
Much as Carell's star power has helped boost The Office over the years, and much as we may miss that man-child Michael Scott, Carell's departure at this point could only be a good thing for the show. One of the chief problems of making show about mundane, realistic lives is the writers frequently wind up spinning their wheels, struggling to come up with believable conflict that doesn't just involve Dwight and Angela getting together again for the hundredth time. Not only would Michael's departure shake up the dynamics of Dunder Mifflin as a whole, it would give them even more opportunity to bring in new talent. So long as the rest of the central cast doesn't follow Carell's lead and bail, there are a lot of promising directions this could go.
What do you guys think? Is The Office without Michael just not a show you want to watch, or are you excited about the changes this might bring?
Your Daily Blend of Entertainment News
Staff Writer at CinemaBlend