Sunday Night Football Week Seventeen: The Way The West Was Won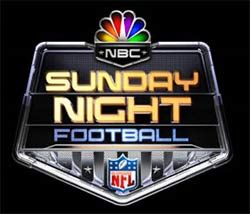 The Seattle Seahawks and St. Louis Rams are two crappy teams in the weakest division in football. So it comes as no surprise that the last Sunday Night Football game of the season was also the most tedious. I'm not a fan of big blowouts by any means; but tonight's game seemed more like two games determined to not lose than it looked like two teams trying to win a division. Let me put it this way: If there was one phrase to describe this game it would be "Three and out".
Sunday Night Football stayed the pop culture course by making no mention of Pete Carroll's cloudy journey to Seattle (see what I did there?) just as they made no mention of Brett Favre's scandal or Roethlisberger's suspension. That's something that can be looked at in terms of the program as a whole. This isn't ESPN. This is NBC, and they don't give a damn about what happens off the field. This is a football program, not an E! special. It's a view on sports that is quickly disappearing, but can be exceptionally refreshing for anyone who remembers the round the clock Tiger Woods' coverage on ESPN a year ago.
More than just a broadcasting style, Sunday Night Football represents a simple, but better produced version of pretty much every football game broadcasted every week. The colors are sharper, the picture is better, and everything is just a little bit better executed than the games you see on Fox and CBS the entire day. To be fair, there are no dancing robots on NBC; but somehow, I think we'll survive.
This program is not quite football perfection, of course. The broadcasters are often stale, the matchups are far too repetitive, and there's just nothing spectacular about the entire broadcast. But its' consistency and under assuming power pays off by allowing the game to just play itself out. An argument could be made for more interactive screen graphics and interesting statistics, but there's nothing wrong with letting the game speak for itself every now and again, as far as I'm concerned.
So now, as the Seahawks mob the field after their under .500 playoff berth makes history, I can't help but wonder when the next time we'll see a Sunday Night Football game. With a strike impending there might not be a NFL season next year; which is terribly sad when you consider just how much fun this season has been. There hasn't been one dominant team all season; and that sort of inconsistency makes for interesting football.
A perfect example is on my screen right now as Sunday Night Football's Andrea Kramer interviews the ...infamous… Pete Carroll, who couldn't be happier that his underbird Seahawks are going to the playoffs. Will the Saints steamroll them next week? Probably. But all that matters is for at least one night, Seahawk fans from all over the country had the chance to see their team get their first playoff berth since 2007. That's what makes Sunday Night Football such a cool program. At its' best, it let's football fans everywhere watch a team that isn't the Steelers, Patriots, Colts, or Cowboys. Thanks for reading my recaps all season! I wish the best of luck to all the teams that have clinched playoff berths, and here's to hoping that we'll get to watch Sunday Night Football all season when fall rolls around next year.
Your Daily Blend of Entertainment News