Syfy Adds Three New Scripted Series Including Comic Adaptation Ghost Projekt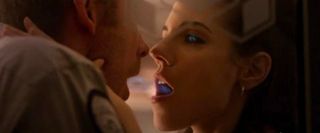 Syfy is on a roll with popular genre shows like Warehouse 13, Eureka, Haven and more recently Alphas, which can be added to that successful line-up with it being recently renewed for a second season. The channel also intends to roll out the first season of Lost Girl early next year, to coincide with the second season premiere of Being Human. So yeah, Syfy seems to be doing quite well for itself and, not surprisingly, they are keen to continue their original programming success by putting three new scripted series in development.
Mark Stern, President of Original Content at Syfy said, "This broad-based slate, from top-notch talent in the creative community, will enable us to build upon the strong foundation of our current hit scripted series to provide Syfy viewers with the next generation of imaginative entertainment." Wow. Let's hope he's not writing the shows. Oh well, he makes the deals happen and the message is clear enough, President of Original Content Stern thinks that they've got enough diversity in the programming and in the talent developing it to add a few more hits to their current successful roster.
The first series, in partnership with Universal Cable Productions, is an untitled Robert H. Wolfe Project (he writes for Alphas) that sounds oddly similar to Star Trek. Set in a post-war future, a group of humans and trans-humans bring law and order to lost worlds on their 'Starship Defendor.' The second series, tentatively titled Seeing Things, is from David Slack and being made with Fox Television Studios. It is about a dead cop who seeks help from a 'socially awkward' man (whose life-long hallucinations may not have been so fake after all) in order to close his last case. Finally, the last project, this time with with CBS Studios, is called Ghost Projekt and is based on a popular comic of the same name, written by Joe Harris. It follows a female KGB agent and American male weapons inspector who must work together to stop a 'deadly force' that escaped from a Siberian research facility. So kind of like The Thing.
Until the new shows hit the channel, watch the aforementioned second season premiere of Being Human on Syfy on January 19, 2012 at 9 followed by series premiere of Lost Girl at 10 p.m. ET.