Being Human Series Finale Review: A Bittersweet But Satisfying Conclusion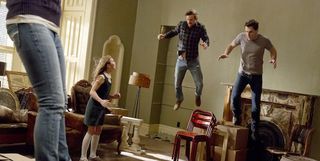 Syfy's Being Human came to a close last night, delivering a finale that managed to capture the heart of the series with an ending that was bittersweet but by no means unsatisfying. Spoilers if you haven't seen it "There Goes the Neighborhood Part 3," the series finale of Being Human.
Four seasons ago, Being Human was a supernatural drama trying to find its place at a network that was taking efforts to loosen the boundaries of the genre that once defined it. Not only was this series not technically science fiction, but it was also yet another attempt at a remake of a British series. Few of those seem to find much success. Being Human never blew up to be a massively popular "hit" series for Syfy, but it did settle into a fast and comfortable groove, focusing its first season on three housemates, each battling their own demons more literally than the average twenty something would. Their unlikely friendship -- a ghost, a vampire and a werewolf not only living together but getting along -- quickly became the heart of the series as their supernatural natures drew them in and out of conflict with others of their kind. To end the drama fittingly, Being Human only ever had to go back to the bond that brought and kept these characters together. And it did, using sacrifice and love to justify its otherwise bittersweet ending, as only two of the four lead characters remained when all was said and done.
There are series like Friends that end with characters leaving an empty apartment or their office or whatever place brought them together. For Being Human, ending the series with Aidan burning the house to the ground seems fitting enough, given the dark nature of the building. I would've liked it if Season 4 had spent more time focusing on the house, to be honest, as I think there would've been more story there, but I'm not sure how long show runner Anna Fricke and the other writers had to prepare this conclusion. Either way, a secret room and nasty little girl causing problems was a nice enough way to bring the story back to the house, which not only brought Aidan, Josh and Sally (and eventually Nora) together, but also served as the death spot for more than one character.
The finale didn't take long to resolve the prophesied event wherein Aidan snaps Josh's neck. Crazed and baited by the house, Aidan was ready to kill Josh at the start of the episode but Sally managed to put a stop to it, first by buying some time and then by putting whatever life was left in her into Aidan, essentially curing him of being a vampire and costing Sally her existence. She was gone and Aidan was alive. Aidan celebrated this first by eating a massive cheeseburger and fries, and then later by getting hammered and passing out in the snow. Cut to Aidan finding out he's aging rapidly and won't survive the week.
Some might try to argue that Sally's sacrifice was in vein. After all, she gave her "life" for Aidan and he died anyway. But she saved Josh in the process, and she saved Aidan from making what would have been his biggest mistake and regret. If Aidan had killed Josh, I'm not sure he would've ever come back from that. Let's also take into account that Aidan used his final moments to destroy the house, protecting anyone else from its harmful ways. And then he died and got his door, which I don't think would've been possible if he would have died as a vampire. So after two hundred years, I'd say Aidan had a good run and his death wasn't a total loss, as Sally was there waiting for him on the other side of that door.
The series ended with Josh and Nora the parents of two adorable kids. Fun bit of trivia: Little Sally and Aidan were apparently played by Sam Huntington's actual children.
Apart from having Aidan and Sally turn human and live happily ever after, we really couldn't have asked for a happier ending. And given the choice between an overly happy -- read: sappy -- ending that gives everyone exactly what they want, I'll take a bit of bittersweet if there's depth and meaning behind the loss, and I think Being Human nailed it there. Both Aidan and Sally were living second lives. This is a series that acknowledges that death isn't the end of the line. Knowing they earned their doors -- Sally lost her own door when Aidan was in trouble in Season 1, so I think it's fitting she was waiting for him behind hiss -- and that they've moved on together offers a comforting sense of closure to both of their existences.
Maybe Being Human wasn't technically sci-fi and maybe it was a remake of another series. People have often voiced complaints about one or the other when it comes to this series, but as a drama that worked suspense, occasional horror, occasional humor, plenty of drama and more charm than it probably had any right to have given the subject matter -- part of that is a real credit to the chemistry of its cast, the other part is great writing -- Being Human was a gem of a series, it had a great run and I'm really going to miss it.
Your Daily Blend of Entertainment News
Assistant Managing Editor
Kelly joined CinemaBlend as a freelance TV news writer in 2006 and went on to serve as the site's TV Editor before moving over to other roles on the site. At present, she's an Assistant Managing Editor who spends much of her time brainstorming and editing feature content on the site.