Shows Like Teen Wolf To Watch Streaming Right Now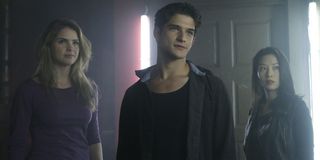 The supernatural has always been something that has intrigued viewers for some time. From monster movies to big-time sagas like Harry Potter, there always seems to be some sort of amazing fantasy world out there for people like us to escape into. That's why when Teen Wolf, starring Tyler Posey, Crystal Reed, Dylan O'Brien, and more, debuted a decade ago, it became a major hit for MTV.
While there were plenty of supernatural shows out before Teen Wolf, the popularity the show gained caused many networks to start making their own supernatural shows, as well. From long-time fan favorites to relativey new supernatural shows, here are the best shows like Teen Wolf.
Shadowhunters (Hulu)
Shadowhunters, based on The Mortal Instruments book series, follows the story of Clary Fray, a young woman who finds out on her eighteenth birthday that she is from a long line of Shadowhunters, human-angel hybrids whose mission in life is to hunt down demons, all while she has to deal with the struggle of forbidden love.
For fans of Teen Wolf, the appeal is almost instantly obvious. Shows like this have some amazing monsters to watch, alongside some pretty amazing special effects and fight scenes. Plus, the love stories will remind you of other teen shows, including Teen Wolf. The series only lasted for three seasons, so if you wanted to binge Shadowhunters, you easily could.
Buffy The Vampire Slayer (Hulu)
If you want a classic supernatural series, look no further than Buffy the Vampire Slayer. Here, we follow the story of Buffy Summers, a woman who descends from a long line of "Vampire Slayers," chosen by fate to battle against vampires, demons, and different kinds of evil. She wants to live a normal life, but slowly begins to embrace her destiny.
There's always been this weird difference with people who think vampires are better than werewolves, but trust me when I say that even if you're a fan of Teen Wolf, you'll enjoy the Buffy the Vampire Slayer cast and this show. It has all of the action you would expect from a show like this, and fan favorites who will capture your heart. I mean, the show even spawned a spinoff, Angel, because the character was so popular. Give it a shot.
Stream Buffy the Vampire Slayer on Hulu.
Rent Buffy the Vampire Slayer on Amazon.
The Vampire Diaries (Netflix)
While Teen Wolf was on MTV, The Vampire Diaries was just as popular. In this teen drama, we begin the story with Elena Gilbert, a teenage girl who just lost both her parents in a car accident – and just so happens to end up falling in love with Stefan Salvatore, a 162-year-old vampire, who has a brother, Damon Salvatore – whom she also ends up falling for.
This show came out during the peak of the vampire craziness after Twilight, and everyone was falling in love with the idea of being with a vampire. However, that didn't mean the show wasn't a lot of fun. The love triangles were almost ridiculous at times, but made the show even more enjoyable, and who doesn't love a nice set of good-looking brothers? Teen Wolf has always been one of my go-tos, but The Vampire Diaries doesn't fall far behind.
Stream The Vampire Diaries on Netflix.
Rent The Vampire Diaries on Amazon.
Supernatural (Netflix)
While Stefan and Damon Salvatore are a pretty cool set of brothers, my absolute favorite pair are the Winchester brothers, Dean and Sam. In Supernatural, we follow the pair as they hunt down several different kinds of monsters, including demons, ghosts, and other supernatural beings, all while dealing with their own issues.
The show had 15 seasons because there was so much story to cover. If you love Teen Wolf, there's no doubt in my mind that you will enjoy the heck out of Supernatural. From the brotherly love between Dean and Sam to the monsters they hunt down (which also include werewolves, by the way), it's a whole lot of fun. By the end of the show, you'll find yourself singing "Carry On Wayward Son" in your mind every day.
Stream Supernatural on Netflix.
Being Human (AMC+)
Ever wonder what it would be like to be a supernatural being and have roommates? Because that's what Being Human covers. In this series based on the BBC show of the same name, we get to follow the tales of a werewolf, a vampire, and a ghost living together, all in the same house as roommates.
Let me just say that this show is hysterical. If you're a fan of the humor in Teen Wolf, there is no way you won't enjoy the heck out of Being Human, and its surprising dark yet pleasing comedy. Not only that, but you get some amazing monsters added in as well, alongside plotlines you would never expect. We've had plenty of shows about roommates, with hits like Friends and New Girl, but Being Human gave a refreshing twist to the genre that I think we could all use.
Stream Being Human on AMC+ through Amazon.
Hemlock Grove (Netflix)
Now, if you're looking for something a little bit darker after watching a show like Teen Wolf, be sure to check out Hemlock Grove. In this series, we get to see the strange happenings that are occurring in the fictional town of Hemlock Grove, Pennsylvania. The community has experienced recent murders, and brutal ones at that, stirring up rumors. A townie and a newcomer end up working together to try and shed light on the mystery – while having their own secrets.
Is it as monster-filled as the rest? No, but honestly, sometimes you don't need crazy monsters like Teen Wolf. Sometimes, all you need is a good mystery, some dark moments, and a great story to get you going. Even with only three seasons, it's still one of Netflix's best shows out there right now.
Stream Hemlock Grove on Netflix.
Rent Hemlock Grove on Apple TV.
Grimm (Amazon Prime)
In this popular police drama, we get to see what it would be like to basically be a monster cop. In Grimm, we follow Nicholas Burkhardt, a Portland homicide detective who is a Grimm, the latest in a line of guardians sworn to protect humanity against mythological creatures, and keep the balance needed for the universe to stay intact.
With six seasons, there's plenty to love about Grimm that Teen Wolf fans would enjoy. You get a ton of monsters, but you also get an awesome cop show. I mean, a cop hunting down monsters in the city of Portland? It already sounds interesting enough. It's, honestly, a great time no matter what part of the supernatural genre you enjoy, and you'll find something or someone to root for in every episode.
The Chilling Adventures Of Sabrina (Netflix)
I still think it's a crime that this show only got four seasons. The Chilling Adventures of Sabrina was a dark twist on Sabrina: The Teenage Witch, where on her sixteenth birthday, she must sign her soul away to the devil to be able to practice her witchcraft and leave the mortal world behind. But, of course, the young girl doesn't want to do that and tries to live both lives – putting herself and her loved ones at risk.
This show was so good. While the original Sabrina: The Teenage Witch was a great sitcom, there's just something about this dark version that makes me smile, and that's why it would be a great pick for Teen Wolf fans. It has that perfect combination of magic, love, and dark comedy. I think that if Chilling Adventures of Sabrina wasn't on Netflix, it could have ended up on MTV.
Stream The Chilling Adventures of Sabrina on Netflix.
Rent The Chilling Adventures of Sabrina on Amazon.
The Order (Netflix)
Moving into another great magic show, The Order followed college student Jack Morton as he enrolled in the Hermetic Order of the Blue Rose, a secret society that teaches magic. As he starts to learn more about who he is and his family's lives, he begins to understand the dark secrets of the past, and an underground battle occurring between werewolves and the dark arts.
I mean, how does that not sound appealing to Teen Wolf fans? That has everything you could possibly ask for. Sorcery? Check. Werewolves? Check. Great story? Check. Fun practical and visual effects? Check. All of the boxes are crossed off here. My only complaint is that it was two seasons. Why does Netflix always want to cancel the good originals?
Lucifer (Netflix)
As our last item, we take a look into what it would be like if Lucifer – ya know, the devil himself – decided to step into the human world. In Lucifer, we get to know the story of the titular character, who ends up abandoning his throne in Hell to own a nightclub named Lux and consult for the LAPD.
The premise alone probably already has you scratching your head. The devil owning a nightclub and working for the police? But, those are the questions that this show wants you to have, and they answer them very well. What also makes this show so intriguing, like Teen Wolf, is the development of certain characters, especially Lucifer. Who would have thought the king of the damned would have a heart? Because that's exactly what Lucifer explores. The upcoming sixth season will be its last, but the show has had an amazing run.
All these Netflix TV shows and other series – there's just so much to watch now! But, hopefully, if you're missing Teen Wolf after all this time, you might be able to find a nice replacement. Now, I'm going to go and re-watch Supernatural for the millionth time.
Your Daily Blend of Entertainment News
Big nerd and lover of Game of Thrones/A Song of Ice and Fire. Will forever hate season eight. Superhero and horror geek. And please don't debate me on The Last of Us 2, it was amazing!