Syfy Sets April 18 Delivery For Riverworld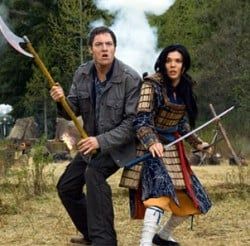 Syfy has found a date for their latest mini-series take on Philip Jose Farmer's Riverworld. The four-hour epic will are on one night (which kind of makes it a long movie and not a mini-series in my book), starting at 7 PM ET, Sunday, April 18. This version stars Tahmoh Penikett (Dollhouse, Battlestar Galactica) and Laura Vandervoort (V, Smallville).
If it performs well enough, Syfy could order Riverworld to series, as they did BSG after its initial mini-series launch. The basic premise is simple enough. The characters awaken on a world where it looks like everyone who has ever lived on Earth is hanging out along the banks of an endless river. And by everyone, I do mean everyone. As if the whole of humanity across time suddenly appeared here on this place, leaving Earth barren of humanity both dead and alive. Or is it?
Is this place heaven? Is it something else? Farmer had five novels and several short stories to explore this strange new world he'd built and filled with billions upon billions of humans. Syfy is offering us four hours to sample it. Certainly the premise is vast enough to allow for series treatment, and would mark itself one of the more ambitious undertakings for the channel. Not to mention the guest star potential. After all, everyone on Earth is there, which means celebrities and athletes and world leaders would only have to play fictionalized versions of themselves.
Riverworld airs in a four-hour block on Sunday, April 18, 2010 starting at 7 PM ET.
Your Daily Blend of Entertainment News
Your Daily Blend of Entertainment News
Thank you for signing up to CinemaBlend. You will receive a verification email shortly.
There was a problem. Please refresh the page and try again.