TV Recap: The Amazing Race 14-Don't Let a Cheese Hit Me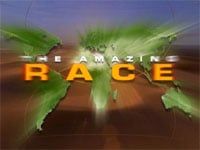 Welcome back to another season of The Amazing Race. Like most jobs, this job is a lot more difficult at the beginning. I don't know the teams, I don't type that fast, and I'm having to constantly rewind the show to figure out what the hell is going on. To be honest, I have to Tivo the show all season long, but at least attrition narrows down the teams I need to focus on. Needless to say, I'll be a happy guy in about a month. Until then, expect a cranky, confused man recapping the show.
U.S Marine helicopters are flying the teams into a military base near Los Angeles. I probably could look up the name but I don't get paid by the word. We receive introductions to the teams but it's too much to try and absorb at once. I'm sure you know by now that Luke is deaf and I'm sure we will hear this at least 4000 times before the show is over. The other stereotypes consist of two teams of ditsy hot girls, hicks, older couple, and a few minority teams. For my sanity, I'm posting pictures now of each team so I can try and keep track of all of them. Hopefully it helps you as well.
Teams rush to their bags to grab their first clue which sends them to Locarno,Switzerland on one of two flights. TAR got a production upgrade apparently as each team gets their own Mercedes-Benz to drive them to the airport. Lufthansa flight takes off first and lands in Zurich. Teams that got on that flight are Tammy/Victor, Christie/Jodi, Cara/Jaime, Mark/Michael, Brad/Victoria, and Margie/Luke. The Air France flight lands in Milan and takes off second. The teams on this flight are Kisha/Jen, Mel/Mike, Amanda/Kris, Preston/Jennifer, and Steve/Linda. Kisha and Jen say that got information that the train station is closer to them so that it will help them out. We'll see. All the teams on the Zurich flight got on their train to Locarno while the Jennifer/Preston were the only team from the Milan flight to miss the train. They decide to bitch and moan at each other the entire time once they get on the next train. Boy, I see this team making it about as far as the train station. The flight attendants, Christine/Jodi, find out from a lady on the train that there is another train that should get them in 13 minutes early. If it works, it's a bold move! They get off the train and on to the other one without anyone seeing them.
Christie and Jodi arrive first and now must head to the Church of San Antonio. They must sign the register and then they will receive information about the next day. The other Zurich teams arrive and head for the church as well. Once at the church, teams can sign up for AM departures. 7:15 am departure teams are Christie/Jodi, Victor/Tammie, Margie/Luke, and Mark/Michael. 7:30 am departure teams are Brad/Victoria, Jaime/Cara, and Mel/Mike. 7:45am departure teams are Kisa/Jen, Amanda/Kris, Steve/Linda, and finally, Preston/Jennifer. Once all the teams are checked in, they all got to move to a camp that seemed to consist of sleeping on hay and under canvas. Steve completely yells at Linda for going slow as if that's the only reason they arrived so late. The poor lady is crying while her asshole husband continues to badger her about it. It's not even a pit stop for Christ's sake.
At 7:15am, the first teams get a picture of the Verasca Dam and have to use the photo to find it. Teams are basically searching for cabs. Christie/Jodi and the cheerleaders, Jaime/Cara, get a little behind while searching for a cab. The stuntmen ar e the first team to arrive at the dam followed by Victor/Tammy. One member of each team will bungee jump 70 stories off the side of the damn. Once completed, they will get a clue. Victor was freaking out while I'm sure the stuntmen were use to that sort of thing. The final departure teams actually get to a cab before Jaime/Cara so they are at least 15 minutes behind. Victor is freaking out like a child while he gets ready to make the first bungee jump. The other teams pick their sacrificial partner to jump although Christie/Jodi are really scared about it and not making any effort to get it done quickly.Teams leave in the following order: Tammy/Victor, Mark/Michael, Margie/Luke, Mel/Mike, Victoria/Brad, Christie/Jodi, Amanda/Kris, Jaime/Cara, Preston/Jennifer, Jen/Kisha and finally, Steve/Linda. Of The next clue says teams will rush by train to get to Interlaken and then get to Kleine Rugen Wiese to find their next clue. Victor/Tammy, Mark/Michael, Luke/Margie, and Mel/Mike all get on the first train to Interlaken. Christie/Jodi get on the next departing train but it is scheduled to arrive later than the train that Brad/Victoria take an hour later.
Once teams get to Rugen Weise, they must used cheese racks to transport 200 pounds of cheese back down the hill. Mel really struggled getting up the hill and I'm sure he wasn't excited to find out that it would take multiple trips down the mountain. The racks kept breaking and people were falling. I honestly think that these cheese rolls were the most dangerous things I've seen on the show. They really picked up some speed rolling down the hill. Thankfully, people can collect their cheese that rolled down the hill and it counts toward the total. Mel is really struggling and I'm not sure he can make it back up again. The first team to finish the challenge is Margie/Luke and they find out the next stop is the pit stop. Teams must listen to some yodelers to find the pit stop. Margie/Luke arrive at the pit stop at first and we get to see Phil sign "you are team number one!" Victor/Tammy and Mark/Michael hit the mat seconds later and just miss out on a nice vacation. Luke is overcome with emotion at making it in first.
The last team to arrive at the cheese challenge is Christie/Jodi who are obviously paying for that wrong train. Linda's inability to walk might be their own saving grace though. By the way, Preston might be a bigger jerk than Steve. He's an Auburn fan so I'm not surprised. Mel/Mike check in at the pit stop next followed by Amanda/Kris, Brad/Victoria, and Jaime/Cara. Steve/Linda actually finish the cheese early after Steve drags 150 pounds of cheese down the mountain while Linda humps the cheese all the way down. Unfortunately, they get lost looking for the yodelers and the reach the pit stop after Kesha/Jan. The final two teams are Preston/Jennifer and Christie/Jodi. Editing makes it close and it actually is. Christie/Jodi reach the pit stop in 10th place just seconds ahead of Preston/Jennifer. We are at least spared from having to watch this team argue for another week.
The premiere is a hard episode to watch because you don't know the teams well and there are just too darn many of them. A lot of teams seem about even in ability. What I did learn though is that there are several annoying teams and a couple of asses. At least with Preston/Jennifer gone the asshole quota has been reduced. We'll see how long Linda/Steve can hold on. I give them two weeks max. Another team I found annoying was Brad/Victoria but I can't put my finger on why yet. I'm flying to New Mexico next weekend and hopefully I can use some of my The Amazing Race skills to maneuver around the airport without getting a body cavity search from some pissed off TSA agent. Until next week!
Your Daily Blend of Entertainment News
Thank you for signing up to CinemaBlend. You will receive a verification email shortly.
There was a problem. Please refresh the page and try again.