TV Recap: Entourage - Malibooty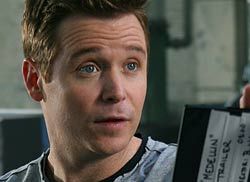 So is Vince right? Is Eric too close to the project to see that Medellin is actually a great movie? Or should Eric go with his gut and sell the movie in the hopes of getting Billy to cut the film down a bit? These are the questions we were left with at the end of tonight's episode of 'Entourage,' titled "Malibooty." While Eric was stressing over his and Vince's investment, Drama and Turtle were off getting lucky with some older chicks and Vince was betting money he didn't have on a sport he knows very little about.
Turtle and Drama's Double Date
Vince, Eric and Turtle are crashing at Drama's right now after having been kicked out of the hotel. They have Anthony Michael Hall to thank for that. After discussing Turtle's self-gratification endeavor on the air mattress the previous night, Drama invites him to hang out with his friend Donna and her friend. Apparently, Donna is a woman Drama's been looking to sleep with since the 90s. This alone should've tipped Turtle off that this woman might not be in the age bracket he's accustomed to.
Donna, played by Lisa Rinna, is in fact old enough to be Turtle's mother and her friend Marjorie looked to be about the same age. While its understandable why Drama would still want to sleep with Donna despite her age, its equally understandable why Turtle wouldn't want to sleep with Marjorie. Looking past the woman's older, curvier physique and the ridiculous amount of cleavage that overflowed from her too-tight (and not in a good way) top, this woman was tacky-personified. Granted if she were younger and hotter, its probable that Turtle wouldn't have minded her overly flirtatious (to put it mildly) manner. Perhaps he would've even been turned when Drama told him she had a reputation for getting down and dirty with a guy's behind. Such was not the case though.
Drama begged Turtle to take one for the team so he could get with Donna. After Turtle begrudgingly agreed, they headed back to Donna's place. As it turns out, Donna decided that she wanted to sleep with Turtle, leaving Drama with Marjorie. Drama didn't even have a chance to attempt to escape before classy-Marjorie grabbed him and bent him over the side of the Jacuzzi.
Vince Gets Lucky Too
Turtle and Drama weren't the only ones getting lucky. Vince ran into one of his many hot-girl friends who invited him to her friend's beach house. Her friend turned out to be Dennis Hopper. Hopper was friendly with Vince and asked him to join them in placing a bet on some soccer game. Vince agreed to drop $100,000 on the game, despite his accountant telling him he was totally broke. Vince, Hopper and a bunch of other random people watched as their team lost the game. Luckily, the guy who was supposed to call in the bet fell asleep and never made the call.
When Dennis asked Vince if he wanted in on the game that came on after the original one ended, Vince, being the laid back kind of guy that he is, said sure. Once again, luck smiled down on him and this time, their team won. Looks like Vince will have enough money to put himself, Turtle and Eric up at another hotel for a while.
Eric's Next Attempt To Save Medellin
Eric attempts to talk to Billy about the changes he thinks needs to be made to Medellin. Billy predictably freaks out and also mentions the fact that he turned the film into Cannes. Eric and Ari discuss this and while Ari hasn't seen the film yet, he and Eric agree that if Cannes rejects it, the movie will be screwed. Eric shows Ari the trailer one of Billy's people put together. This trailer makes the movie look great. Eric thinks if they can use it to sell the movie, whoever buys it might be able to get Billy to make the necessary changes.
Ari tells Eric that Harvey Weingard has been following the movie. You might remember last summer when Vince and Eric pissed Weingard off at Sundance when they accepted then refused a film offer, deciding to go with Aquaman instead. Eric happens to mention that Vince thought the movie was great and this information turned Ari around. Ari trusts Vince's opinion over Eric's.
Deciding to go it alone, Eric meets with Harvey and successfully pitches Medellin to him. When he tells Vince this, Vince tells him that Billy said Cannes accepted the movie.
So the big question is, should they sell the movie to a studio or place their trust in Billy's vision of the film?
Kelly joined CinemaBlend as a freelance TV news writer in 2006 and went on to serve as the site's TV Editor before moving over to other roles on the site. At present, she's an Assistant Managing Editor who spends much of her time brainstorming and editing feature content on the site.
Your Daily Blend of Entertainment News
Thank you for signing up to CinemaBlend. You will receive a verification email shortly.
There was a problem. Please refresh the page and try again.