TV Recap: Friday Night Lights - I Knew You When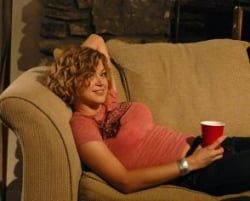 Oh, man I've missed the Panthers. How about you? Now I know this wasn't the actual season premiere; that happened a few months ago on DirectTV, but I don't have DirectTV, nor do I know anyone else who does. So what does that mean? Friday Night Lights is all new to me!
There have been a lot of big changes since we last saw the gang in Dillon, and nobody seems to be too happy about it. Everyone's life seems to have pretty much gone to hell; except for Tammy, who's the new principal, but even that seems kind of sucky. Sure, it starts out well enough, with Buddy giving her a giant check in order to buy a Jumbo-tron for the Panthers.
Unfortunately, Tammy quickly learns that outside of the fancy athletics department, with it's new computers and air-conditioning, the rest of the school can't afford chalk. They also can't afford paper, or you know, teachers. Tammy tries to figure this all out, but ends up making the decision to sacrifice ESPN coverage and reallocate the money to academics. Buddy is not pleased, but what can he really do?
Buddy's actually having a hell of a time this episode. Not only does he see his sweet, sweet Jumbo tron dreams disintegrate right before his very eyes, but Lila, who's living with him now, is dating Tim Riggins. Yeah; so apparently that happened over the summer. She begins this episode by sneaking him over to spend the night with her, and ends it by kissing him in front of everyone at the big post-game party. Buddy doesn't know that Lila snuck Tim into her room, but even if he did, I somehow think her taking their relationship public would be worse to him.
It takes Lila a long time to take the relationship public because she doesn't take Tim seriously. This makes perfect sense, since he is, after all, Tim Riggins. As she points out, he shows up to school drunk, doesn't go to class and has the Rally Girls do his homework for him. Lila is a good girl and spent her first few high school years as one half of the Jason and Lila power couple. She ruled the school; how is she supposed to seriously date Tim Riggins? Fortunately, Riggins makes it easier by being sweet, hot Tim Riggins, instead of drunken loutish Tim—thus the kiss. I don't think they'll last long together, but it's fun to see them finally take the plunge after hinting around it forever.
Regardless of how long they last, it'll probably be longer than Tyra and Landry. The two of them finally got together at the end of last season, only to have it end over the summer. That means that after spending last season watching them trying to figure out how to have a relationship with each other in the midst of killing a guy, dumping his body, and confessing, that we don't actually get to see them together. I feel ripped off. They're still friends; Landry helped Tyra with her homework and they went out for Karaoke together, but Landry says they're taking a break, while Tyra says that they're broken up. Either way, I want to know what the hell happened.
Tyra has bigger things to worry about than Landry, though. Her sister drunkenly gets engaged to Billy Riggins, which will make her and Tim in-laws, which is kind of awesome. Tyra's freaked out by the whole thing, not because she'll be related to her ex-boyfriend, but because she sees her future. She wants to go to college, but her jackhole vice-principal basically said she should stick to her place in life. After seeing her mother and sister drunkenly dancing with questionable dudes in a Mexican restaurant, Tyra realizes that she has to do whatever it takes to get the hell out of Dillon next year, so she's running for Student Council President. I would definitely vote for her.
Over on the football side of things, because they apparently like that sport on this show, big changes are afoot. Smash has graduated, but it turns out he blew out his knee during the playoffs last season, and has lost his scholarship. He's working at that same ice cream place he worked at in high school and despite spending all summer with Coach Taylor trying to get back on his feet, he's ready to give up football. Coach of course won't let him, so they have a very nice heart to heart that for some reason involves racquetball and convinces Smash that he needs to get over himself and give football another chance.
Speaking of chances, the Panthers have a new freshman quarterback. J.D. McCoy. He and his family specifically moved down from Dallas so he could play for Coach Taylor. J.D.'s dad is super pushy about it, first trying to win over the team by buying them all smoothies, and then by bringing Coach an expensive bottle of Scotch and a few Cuban cigars.
Coach doesn't want to give Matt's spot away his senior year, so he's already resistant to letting J.D. play that much, despite the fact that he was breaking state records in middle school. However, when Matt and Riggins both scored touchdowns that sewed up the game for the Panthers, Coach Taylor put J.D. in, where he promptly threw an amazing touchdown pass that had people calling him the new Jason Street. Matt looked concerned.
All in all, it wasn't the most exciting episode in the world, but it's been about a year since FNL was last on NBC, so it's important to catch up a bit. I like where everything is going—except for Tyra and Landry. I want them together, or at the very least, I want the reason for their breakup to be a good one. What did you guys think? Was this worth the wait?
Your Daily Blend of Entertainment News
Thank you for signing up to CinemaBlend. You will receive a verification email shortly.
There was a problem. Please refresh the page and try again.