TV Recap: Friday Night Lights - Tomorrow's Blues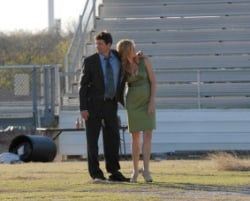 Usually clothes aren't too front and center for me on FNL, but for some reason I was noticing them a lot this episode. Of course, there is the wonder and beauty of Mindy's wedding dress, but more than that, it was the more subtle things that interested me.
The first thing was when Eric Taylor went with Buddy to visit this gigantic man-child in order to convince him to become a Dillon Panther. Turns out Wade and Joe McCoy had already been there the week before, acting all large and in charge and making this family feel like they were making all the decisions.
This, obviously, doesn't sit well with Eric, so he goes over to Joe McCoy's house to have a little chat with him. He accuses McCoy of trying to push him out of his job, and McCoy basically admits that he is. Benevolent dictator that he is, however, Joe is kind enough to offer Eric the opportunity to keep his job as head coach-- so long as he guarantees that J.D. will start every single game.
Eric tells Joe that he's sure he knows what he can do with this "opportunity," and storms out, barely suppressing the urge to brutally murder the man. It's a great scene, and Eric awesomely storms out of the mansion. Unfortunately, that's when we see it: Eric is wearing shorts. You guys, you know how much I love Eric and how much of a badass I think he is, but the fact remains you cannot take a man seriously when you can see his kneecaps.
It turns out that Eric actually has a lot to be worried about: his contract is up for review and Wade is trying to take his job. Despite the fact that Eric has led the Panthers to a State win two out of the last three years, he's actually in some trouble.
Tammy manages to convince a reluctant Eric to go to the board's vote and speak up for himself. He does, much against his will, but the board offers his job to Wade anyway. This doesn't mean, however, that the Taylors are moving out of Dillon. The board offered him the head coach's position at the about-to-be-reopened East Dillon high.
The bad news for Eric is that in addition to losing his job and becoming the number one rival of the Dillon Panthers, Buddy Garrity and the Boosters made sure that the redistricting would mean that all of the good football players in town would end up at Dillon High-- so Eric's got quite the long road ahead.
This episode takes place five months after the last, so it's the end of the school year, and everybody's futures are in turmoil-- not just the Taylors'. All of the seniors are figuring out what they're going to do next year. As it stands at the beginning of this episode, Tim and Lyla are still planning on going to San Antonio State together, while Matt is actually planning on going to the Art Institute of Chicago. Landry has a 4.2 GPA, so he can pretty much go wherever he wants, and Tyra has been wait listed at UT.
Everything starts to fall apart though, when everyone seems to get cold feet. Tyra, who's number 2 in her class (behind Landry, I would imagine), should not be going to a party school like San Antonio State. Buddy and Tammy even stage an intervention, with Buddy telling her that he's even willing to go to his brother (the awkwardly named Gary Garrity), whom he hates, to ask for money to make sure she can go to Vanderbilt.
Lyla goes back and forth on the offer, initially turning it down, before getting the money. She actually tries to turn it down again though, telling Tim at the wedding that she's sorry she even thought about leaving him to go to college.
Tim played the supportive boyfriend by telling her that she has to go, because it's the best thing for her future, and that he's not going to be the guy who holds her back. It's very sweet, except he has ulterior motives. Tim isn't really feeling the whole college thing and is afraid that it's going to take away from his "me time."
He even goes so far as to tell Billy after the wedding that since Lyla isn't going to school with him, he doesn't have to go anymore, meaning he can stay in Dillon and work at Billy's auto shop with him. Despite the fact that he's marrying a (pregnant!) stripper whose wedding dress has angel wings on the back, Billy actually does have some sense. He tells Tim to stop being such an idiot and to go to college. He has the opportunity that Billy doesn't and he owes it to his unborn children as well as Billy's to make something out of himself. So it looks like Tim is going to San Antonio State.
Matt is the one who is going the furthest away-- to the Art Institute of Chicago. His grandmother even moves into a home so that he can go without worrying about her. He and Julie are still going strong, but when Julie tries to be mature and let him go, Matt freaks out. He goes and picks his grandmother up from the home and tells her that she's the only one who's never left him, so he's staying in Texas. Matt is an idiot. College or not, he doesn't have the resources to take care of his grandmother. This is going to end badly.
At least Tyra isn't trying to stay in Dillon. She's trying to run away as fast as she can-- the only problem is she's been wait listed at UT, so she's not sure she can get out. She even goes so far as to drive down to the school and talk to the admissions officer, but he doesn't help much: only telling her that she's one of a thousand people on the wait list.
She and Landry have apparently been a couple for the last five months, and to their credit, they're the only ones who aren't freaking out because they'll be separated next year. They both want the other one to be successful and don't want their relationship to pull them down. It's very sweet-- especially when Tyra freaks out after seeing the admissions officer and Landry gets mad at her for not believing in herself. It makes her eventual acceptance into college and their joy that much nicer.
We end the episode and the season with Tammy and Eric going to the field of East Dillon High and surveying their future. It's in bad shape, but it has potential. I don't know what is going to happen next season with all of the characters we've grown to love. So many of them are going to college, I'm not sure what we'll be left with. The empty broken down field is a nice metaphor for where we are now in the show. We're losing nearly everything, but there's always hope to rebuild.
Your Daily Blend of Entertainment News
Thank you for signing up to CinemaBlend. You will receive a verification email shortly.
There was a problem. Please refresh the page and try again.