TV Recap: Project Runway - The Art Of Fashion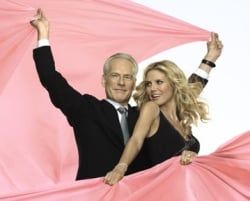 Previously:
Spandex House! Chris finally wins and Ricky is finally out—sans tears.
Model Swap/Challenge:
Chris stays with Marcia, which means Amanda is out.
This episode is the dreaded double-elimination. Even though we know all five of them had shows last week at Bryant Park, only three of them were actually still in the running towards becoming America's Next Top---wait. Sorry, I forgot what show this is. Anyway, two eliminations tonight. Scary stuff. Heidi tells the models that they're going on one last field trip and they're to meet Tim 82nd and 5th.
They arrive at the Metropolitan Museum of Art and follow Tim inside. Tim tells them what their challenge is, and it sounds hard-core. They need to create a look inspired by a piece of art in the museum. Since this is one of the largest museums in the world, they're only allowed to pick from three galleries: The Greek and Roman sculpture courtyard, the European painting wing, and the temple of Dendur. They get 45 minutes to find their inspiration and cameras with which to take pictures.
It's kind of hilarious how the designers manage to find artwork that is basically their designs. Rami finds a statue of Aphrodite with a draped dress and Christian finds a painting with puffy sleeves. Ah, predictability.
Workroom:
The designers are chugging along, except for Jillian, who Christian points out has been ironing for three hours. She snips back about making pleats and a mini catfight ensues. It's pretty boring and just illustrates how sick of each other they are.
The models come in for a fitting, but Sweet P's model had an "emergency" and can't be there. Sweet P is understandably freaking out about what this will do to her chances.
Tim comes in and asks everybody to "gather 'round" while he introduces a special guest, Collier Strong, consulting makeup artist for Loreal Paris. He's there to consult and to product place his little head off.
Chris finishes early and takes a nap. Meanwhile, Christian also finishes, but he spends time touching up. Tim comes back and is very disappointed to find Chris sleeping. Tim tells him that he is very much not finished. Tim takes a look at his design and says it's not refined enough. He asks Chris if he can add to it, to which Chris replies, "I wouldn't add a thing." Noooooooo. Don't cross Tim Gunn!
Tim loves Christian's design, but is worried about the cohesion. Sweet P's dress looks like a hot mess. Tim says he wishes it was more exuberant. Jillian did a coat, of course. Tim is very enthused about her design. He also calls Rami's dress stunning, but is worried that Nina will be bored.
Sweet P's model finally shows up two hours before the end of the day. Sweet P does the fitting, but is still afraid that she won't finish.
Runway:
Roberto Cavalli is this week's guest judge.
Chris's model comes down first, and while his long dress with a dramatic grey collar is very well-made and looks as though it was inspired by the painting he chose, it also looks a lot like his and Christian's design from the Avant-Garde challenge.
Christian's model is a big, marshmallowy puff ball. It's skinny pants, a giant, puffy white shirt, a black jacket, a black cape and a fedora. There's a lot going on.
Rami's Grecian-draped dress is in a pretty purple fabric and looks exactly like everything else he has done on this show.
Sweet P's peacock dress ended up being cuter than I thought, but it's still not "peacocky" enough. It could have used something more dramatic in the back.
Jillian's coat is of course gorgeous, but I don't really understand the Studio 54 gold lamé disco dress underneath.
Judging:
Roberto Cavalli loves Christian's design, because he can tell how much love he put in it. Michael Kors thinks it's super, super, super-chic. Cavalli says that Chris is the most artistic of all of them, and he just about starts crying, which is totally understandable. That's quite a compliment. He goes on to tell him that he can do Haute Couture in Paris. Wow. Michael Kors and Heidi bring up the Avant-Gard piece, so they're kind of disappointed. Nina loves Jillian's interpretation, and Cavalli loves the detail on the jacket. Michael Kors likes Sweet P's dress, but doesn't think there's enough "show" in it. Cavalli similarly thinks that Rami's dress is too normal. Michael Kors is also bored.
Heidi brings the designers back out and announces that Christian wins the challenge. Big freakin' surprise. He gets the first spot at Bryant Park. Jillian is also in and is guaranteed a spot. It's down to Chris, Sweet P and Rami. Sweet P is out. I'm so sad because I love her, but it was the right decision. Her dress didn't bring the wow factor. Rami's work has been consistent, but consistently safe. Chris can bring drama, but he didn't show them something new. CHRIS IS IN! Ugh, Rami is also in—oh, but not really. They both create their collections, but there's another judging before fashion week and the person who wins that judging will be the one who is actually competing. That seems cruelly interesting to me.
Oh, Sweet P. Don't be sad; you get to go to Bryant Park anyway!
Next Week:
Reunion episode!
Your Daily Blend of Entertainment News
Your Daily Blend of Entertainment News
Thank you for signing up to CinemaBlend. You will receive a verification email shortly.
There was a problem. Please refresh the page and try again.