TV Recap: Project Runway - Bright Lights/Big City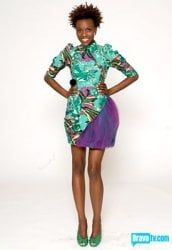 Previously: The models chose the fabrics for environmentally-friendly cocktail dresses. By and large, it did not go well—especially for Wesley. Disco Suede, however, snagged the second win of the season.
I love Heidi, mainly because there's something about her that seems really devious. As she's telling the designers that since they've worked hard, Tim is taking them for a night on the town, you can almost hear the inner "Muuuhhhaaahhhhaaaa" hiding behind those soft, blonde curls.
After they get back to Atlas, the designers guess where Tim is going to be taking them. Most people think it'll be a bar or a restaurant. However, the destination is even better! A City Sights tour bus! Parked right in front of Port Authority, no less. Now that's excitement.
As lame as the setup is, the challenge itself sounds like a lot of fun: to create a design based on New York at night. The bus is going to make four stops. At each stop, one group will be dropped off with a camera so they can take pictures of their sources of inspiration. They'll have one hour, after which they're heading back to Atlas.
The stops end up being Columbus Circle, Times Square, the New York Public Library and Greenwich Village. Nothing above 60th street for this crew, because, as you may or may not know, New York City ends at midtown.
The next morning, Tim meets the designers at Parsons and gives them a half an hour to go over their photos to choose their inspiration. Afterwards, they'll have $100 to go shopping at Mood. They have until 1 am to work and the winner will receive immunity.
Okay, so here's something that I find extremely annoying about this season. It seems like each iteration of PR has a breakout star. Whether it's Santino with his Tim Gunn impressions or Christian's "fierce," Runway creates memorable characters. What makes them memorable, however, is how it comes about organically, after a punch-drunk sewing session or the realization that they are sewing banana peels onto a lampshade or whatever.
However, this season, Disco Suede and Blayne are trying to force their quirkiness upon us. Between Suede's insistence on talking in the third person and exclaiming "Suede is gonna rock it!" at inappropriate times (not that there is an appropriate time) and Blayne trying to shove "girlicious" down our throats and telling a poor, confused Tim Gunn to "holla at your boy," I feel stabby. In that I want to stab them both in their throats. Repeatedly.
I'm not feeling too good about Keith's chances. He's been a major part of the episode so far, and shared how difficult it was growing up gay in a Mormon community in Utah. Sad personal stories generally lead to elimination. Plus, he talked about how he wanted to make it to the final three: also not a good sign. To compound his problems, his model has to drop out of the competition, leaving him with Wesley's model. Maybe it's showing how he's going to triumph over adversity, but I have the feeling Keith is not long for this world. Plus, his dress looks kind of crazy, so there's that.
Runway:
This week's guest judge is Sandra Bernhard!
Keith: His dress is basically a million tiny scraps of fabric sewn together into a dress-like shape. It looks like debris.
Blayne made a hideous black dress with an asymmetrical skirt that looks like the witch costume I wore for Halloween when I was 7. He then put some neon fabric flowers all over it.
Joe's cocktail dress is pretty interesting. He did a relatively literal translation of a lighting fixture, and it's not half bad.
Emily's dress is weird. It's a slightly better version of Blayne's design. It's a little black dress with orange fabric flowers/ruffles.
Leanne made an interesting black cocktail dress with a tiered skirt.
Jennifer's design is a hot babydoll mess that Courtney love would have worn 10 years ago to look respectable.
Jerell made a flamenco dress inspired by the fountain in Columbus Circle. It's kind of costumy and he used a weird olive green fabric.
Kelli made, uh, a skirt and some sort of shirt-like object. It has a lot of cut outs.
Daniel's dress looks like a prom dress from 1987.
Kenley's dress is made out of the lawn chairs the Golden Girls had out on the Lanai. Dorothy is going to be pissed.
Disco Suede's dress actually isn't half bad. It's a metallic shirt dress that's kind of fun and flirty.
Stella designed a pants and vest outfit. It's made of leathuh.
Korto made a black jumpsuit. I'm against jumpsuits as a general rule, but hers is actually pretty nice.
Terri made a dress over pants. It's kind of meh.
Judging:
Heidi tells the following designers to step forward: Keith, Kenley, Emily, Terri, Jennifer, and Leanne. Everybody else is safe.
The judges like Kenley's dress. They are obviously drunk. Heidi tells Keith that the shape is missing, but Michael says it looks like toilet paper caught in a wind storm. Sandra love's Terri's pants/dress outfit. The judges really like the attitude behind it. The judges aren't impressed with Emily's ruffles. The judges love Leanne's design; Heidi says she would wear it in a second. Heidi calls Jennifer's dress matronly, while Nina says it's on "the boring side." Don't bore Nina!
The judges deliberate further, and I'm so confused. Nina can't even bring herself to comment on Emily's dress, but they let Blayne's just fly by? It was the same dress, except more hideous! I don't get it.
Heidi brings the six best and worst designers back out to the runway. Terri is in and Kenley's hideous, hideous dress makes her the winner. Ugh. Leanne is also in, as is Keith, so I guess I was wrong in my prediction. This leaves Emily and Jennifer in the bottom two.
Heidi tells Emily that her design was a cliché, and her voice as a designer didn't come through. She tells Jennifer that her dress was boring and matronly. Jennifer is in, but Emily's cliché'd dress did not work for the judges, and she is out. She says that this definitely wasn't the losing dress for the challenge, and I have to agree. It wasn't great, but there were things that were far worse. LIKE THE WINNING DRESS.
Your Daily Blend of Entertainment News
Your Daily Blend of Entertainment News
Thank you for signing up to CinemaBlend. You will receive a verification email shortly.
There was a problem. Please refresh the page and try again.