TV Recap: Project Runway - Double O Fashion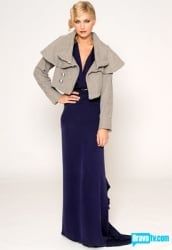 Previously: Oh, the product placement! It was horrifying—as were most of the designs made from car parts. In the end, Leanne won while Keith, the annoyingly sad gay Mormon, was auf'd. I really have to commend this season. They're really doing a good job at dispatching a lot of the annoying ones quickly. Well, except for Blayne. And Disco Suede, but…whatever.
After the model swap, Heidi tells the designers that a very special guest will be coming out to tell them about their next challenge. The guest turns out to be Tim! Yay! It's so weird seeing him on the runway. He tells them that their challenge is to design something for a fashion legend. Leanne is just happy that they're not designing an outfit for Tim Gunn, which I have to agree with. Can you imagine how terrifying that would be? I would not want to see Poppa Bear's disapproval when faced with something he would actually be expected to wear himself.
They get to their location, and it's the office of Diane von Furstenberg. She further explains the challenge to the designers, which is to create a look for her fall collection based on the movie, A Foreign Affair. Diane is renowned for her use of patterns and fabrics, so she's not trusting these yokels to go to Mood and pick something appropriate out. That's why they're making a pit stop in her sample room so they can choose from some of her own fabrics. The winner of this challenge will have their design produced and sold exclusively to American Express cardmembers and part of the proceeds will go to the CFDA Foundation.
Tim comes to visit the design room and takes a look at Joe's design. It looks hideous to me. It's two different shades of pink, the shirt is backless—basically it looks like a mess. Tim, however doesn't seem worried, which worries me. Maybe I'm drunk and this design is awesome. I don't know.
I'm pretty sure Jodie Sweetin wore Kenley's dress on Full House. Tim doesn't seem to be disturbed by this either. I do not know what's going on tonight. Up is down, left is right. I'm scared. Somebody hold me.
But seriously, WHY WON'T KENLEY STOP CRYING?
Runway:
Diane von Furstenberg is, of course, the guest judge. Fern Mallis, who puts together the Bryant Park shows, is filling in for Nina Garcia.
Joe's design is even more hideous than I first feared. It involves a belly shirt and a sparkly cape. It looks like a reject from last season's WWE challenge and I am afraid Joe is not long for this world.
Leanne's dress is ridiculously gorgeous. It alternately looks navy blue and deep purple and has a gorgeous ruffle detail on the back. She even fixed the grey coat she was putting over it so it no longer looks like a sad cardigan.
Terri made trousers and paired them with a fireworks-printed shirt and a mohair coat. It looks a lot better than it did in the design room, but it's not really doing much for me.
Jerell's outfit is insane. His model looks like a space age flight attendant. There's lace involved, as well as sparkles. I really can't describe it, other than to say it's not good.
Korto's dress is gorgeous. I love it when a designer can pull of black, white and yellow together and she does it very well. However, I'm not wild about the coat. It looks too heavy for that dress.
Blayne made bloomers. I don't know if there's really anything else that needs to be said. Um, they have polka dots. And he paired them with a black coat and something very colorful. I can't tell if it's a shirt or a scarf, but I really want to make it stop.
Disco Suede made a long dress in a green and cream pattern. It just looks really…big. He paired it with a herringbone vest and it's just not working for me.
Stella's design confuses me. When I first see it come down the runway, I like it. The silhouette is nice—she paired a vest and trousers with a cape. However, once you look at it closely, it just looks cheap and weird.
Kenley's dress is Shanghai-ish, but again, it's kind of early 90s and ugly.
Judging:
Heidi tells the following designers to step forward: Terri, Jerell and Blayne. They are safe. That leaves Joe, Korto, Disco Suede, Stella, Kenley and Leanne with the highest and lowest scores. Can Leanne win back to back challenges? I kind of think she should.
The judges all love Korto's design. Heidi especially loves the little jacket, while Diane is impressed with her use of the yellow fabric. Diane and Heidi hate the open back on Joe's shirt. Michael Kors says that it's not cohesive and that it's odd. I couldn't agree more. Heidi says she likes Kenley's dress, but it doesn't really say "Diane von Furstenberg" to her. Diane likes what Stella attempted, but Michael calls the tailoring a nightmare. Heidi tells Leanne her dress is new and different, while Fern praises the ruffles. Diane thinks Disco Suede put too much fabric around the hips. Fern doesn't like the herringbone jacket.
After deliberations, Heidi calls the designers back to the stage. Korto is in and Leanne wins her second challenge! It's well-deserved. While I would say Korto was a close second, Leanne's dress was amazing. Kenley, for some reason that is beyond my understanding, is also safe, as is Disco Suede. This, predictably, leaves Joe and Stella in the bottom two. Heidi tells Joe that he just had too much going on and that the back of his design was a disaster. She tells Stella that she gave them three pieces, but did none of them well and calls the outfit a major misstep. Because of this, Old Leathuh-Face is out.
I can't say I disagree with this decision at all. Even though she amused me, Stella consistently underwhelmed every single week. She just simply wasn't at the level she needed to be.
Next Week: Special guests! Michael tells someone that their model is pooping fabric; that can't be good.
Your Daily Blend of Entertainment News
Your Daily Blend of Entertainment News
Thank you for signing up to CinemaBlend. You will receive a verification email shortly.
There was a problem. Please refresh the page and try again.