TV Recap: Project Runway - Fashion Giant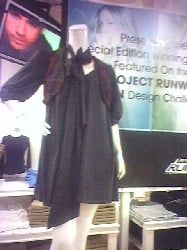 Last week: Victorya's design became part of Sarah Jessica Parker's fall line. Because I care, I went to Steve and Barry's a few days ago to check out Victorya's winning dress that was on display and to see the Bitten versions. I've even included blurry, crappy camera phone photographic proof to the right. Guys, the dress is awful in person. It's made out of what feels like really cheap bedsheets and looks like a maternity dress. In fact, if you change the color (it comes in black and burgundy) I'm pretty sure it's something Molly Ringwald wore in For Keeps. The problem with wearing this if you're actually having a baby, is that people will be able to see your birth canal. The dress is short. It's basically a maternity shirt from hell. Thanks SJP.
This week's episode is heavy on the half-naked men. We open up with shirtless Jack (again) talking about how he's been HIV-positive for 17 years. Christian, fully-clothed (thankfully) interviews about how being in the bottom two shook his confidence, but that he's still a better designer than pretty much anybody else.
The designers go to the runway to choose their models. Heidi comes out and tells them that they won't be needing their models today and that they're going on a field trip. The challenge that they're about to be presented with is a "first for Project Runway." Everybody looks scared. They end up at 10 Rockefeller plaza and meet Tiki Barber. Christian looks like he's about to die from boredom. It's kind of funny because nobody knows who Tiki Barber is. Poor Tiki doesn't exactly warrant the SJP-levels of hysteria from last week.
Challenge:
This week's challenge is to make Tiki Barber an outfit to wear on The Today Show. They need something appropriate, but he's not afraid of color and loves pattern and texture. He's also very self-conscious about his butt. The designers have two days and $150 to complete the challenge and people immediately start freaking out. Nobody knows how to do menswear. Jack asks if he can use his own clothes for reference and when he gets the okay, promptly rips his shorts apart and makes a pattern out of them. What's amazing is that he lets Sweet P and Victorya straight-up trace his pattern. I'm not saying you need to steal people's fabric or anything, but come on. This is still a competition, right?
Rami isn't very happy with what's going on over by Jack's station. He doesn't think that it's fair to let people just trace a pattern. I get what he's saying, but my issue with it doesn't have to do with fairness, just more of the fact that it's a freakin' competition and contestants should stop being so damn helpful. This isn't a quilting circle, people.
Tim comes in and tells everybody that they're getting some man models. The models come in and immediately we've got more half-naked dudes on screen. They all start stripping down to their underwear and we get a completely gratuitous close-up of a guy's ass as he's bending over. It's kind of hilarious. Also hilarious is Elisa's refusal to watch her model undress. She turns around until he's finished and interviews that she's really shy and uncomfortable fitting a man who isn't her boyfriend.
Tim has another special guest in store for the designers: it's Ginny Barber, Tiki Barber's wife. She's ostensibly there to critique everybody's work, but she has very little to say. Her eyes kind of look glazed over the entire time. The only design she has any real critique for is Carmen's. She says that the jacket is a little "Members-Only." Tim is concerned about the entire design and Carmen freaks because she doesn't have enough fabric to redo it.
So it's day two and people are starting to lose it. They're ditching jackets, making vests, freaking out about shirts, and Ricky puts his zipper in wrong—and this is where things get ugly for the first time this season. Carmen starts singing, "don't go home too soon," over and over again in a really annoying way. Ricky, rightly and awesomely, sings back that she needs to shut the eff up. Carmen does not like this and tells him that she's two minutes from snapping. Ricky remains calm and tells her to just go ahead and snap. Carmen replies by basically calling him a bitch a lot. She's kind of a jerk.
I'm going to start putting in my favorite line from each episode. I have a feeling that they are going to often come from Steven, who is adorable.
Favorite line of the episode:
Steven interviews that, "nobody has anything done. The vibe in the room is one of, oh what was the one they had on the Titanic right before it sank? Oh yeah, panic."
That statement is very apropos in that, while they were kind of losing it before, they are jumping ship now. Sweet P's shirt is a hot mess. I don't think it even buttons and it doesn't even really look like a shirt so much as it looks like Dr. Evil's jacket in Austin Powers. Carmen doesn't even make a shirt. She just throws some fabric around her model's neck and sends him on his way. It's nuts.
Runway:
Jillian: She ends up with a 3-piece suit with shirt. The suit is nice, but the shirt looks a little pimp-tastic and has a very wide collar.
Carmen: Oh my God. Her jacket looks like it has bell sleeves, plus she has the random piece of fabric and khaki pants. It's insane. The fit on the pants is awful. They stick out on the sides and make weird devil horns on the hips.
Christian: He says his is the most interesting, of course. He has a shirt/jacket/pants combo. The shirt and pants bother me because they're both khaki, but not quite the same. The shirt has a diagonal zipper. Once again, his jacket is a little Jetsons.
Kit: She has a khaki pant, button down shirt blazer combo. The blazer looks interesting, it only has one button. The shirt has a nice check pattern. It's kind of casual for The Today Show, but it's pretty nice.
Rami: I don't know what Carmen's jacket actually looks like, but Rami's jacket looks flat out Members-Only. It's a khaki jacket with what looks like navy pants and a white button down. It's very casual and the jacket is really ugly.
Sweet P: she loosened the tie to cover up her mess of a shirt. It's the longest tie ever and the sleeves look too short. Even if it had all worked, it would be very boring. Her pinstripe pants look nice, but she traced the pattern, so it would be kind of hard to screw them up.
Steven: His look is an interesting sweater/pant/scarf combo. The sweater is nice, but the scarf is a little much.
Victorya: makes a black pant with what looks like a black sweater. It has a really nice white jacket that loses me at the oddly-shaped black collar.
Kevin: He made a very nice pant/shirt vest combo. Black pants, purple shirt with a chocolate tie and matching pocket square. It's a little bold, but it looks very nice.
Chris: He made a surprisingly dour, all black ensemble. The jacket doesn't have a collar and looks like it's part of a uniform. It's just kind of weird.
Jack: He has a nice but boring pant shirt combo. It's pinstripe pants with a pinstripe shirt that doesn't work on TV. Striped shirts are very hard to pull off on television and this one doesn't do it. I have an HD-TV and the colors are still going all wonky on the shirt.
Ricky: He has a black suit and a white shirt that looks nice at first. The suit jacket has a fun stripe pattern inside, but the sleeves are poorly made and bunchy. Plus, he has pins sticking out everywhere.
Elisa: Earth/Moon Goddess Elisa ends up with a pant with a tan/brown sweater and a deep brown vest. The vest is a little much for me, it looks a little too Peter Pan.
Judging:
Heidi asks the following designers to come forward: Jillian, Christian, Rami, Steven, Victorya, Chris, and Elisa. They are all safe.
Tiki likes Kit's outfit. The jacket is navy fleece. Huh. That's interesting and not something I thought I would like, but I have to admit, her outfit is growing on me. Tiki thought Sweet P's outfit was messy. Michael likes Jack's look. Tiki likes the textures and says that the stripe in the pant is subtle. But the shirt doesn't work for TV! Why are they not listening to me?
It's Ricky's turn and Nina flat out goes for the pins and asks him what's up. Tiki doesn't like it because it's sloppy. He says he would look like a fool if he wore it on air. He's got a point, but I still think there are other outfits that are way more foolish. Tiki says he doesn't wear a lot of vests, but he likes Kevin's. Heidi leads me to my second favorite moment of the episode when she says she would not let her husband go out like that. Michael asks, "Seal's not going purple?" Kevin says Seal would look great in it, but Heidi replies that "it's more David Beckham" with such a look of disgust that I'm pretty sure 3000 miles away, David Beckham is crying in the shower and has no idea why.
They bring the designers back out and Kevin is in. Jack wins, which surprises me. I thought he was going to go with Kit. Kit is safe, of course.
Sweet P is also in, much to her delight and surprise. It's down to Carmen and Ricky. While Carmen sending her model down the runway half-naked brought the theme of this episode around full-circle, it also gets her eliminated. Ricky starts crying. Carmen does not.
Next week: Steven: "America, start praying for us now," it's a partner challenge.
Your Daily Blend of Entertainment News
Your Daily Blend of Entertainment News
Thank you for signing up to CinemaBlend. You will receive a verification email shortly.
There was a problem. Please refresh the page and try again.