TV Recap: Project Runway - Finale Part 1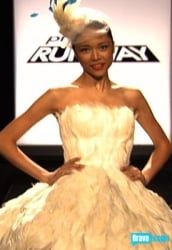 Previously: Everybody hates Kenley and it looks like she's going to get kicked off, ending our long national nightmare. However, the judges can't decide on a loser, so Jerell, Leanne, Korto and Kenley are all going to create collections. Only three, however, will be in the "official" competition. Not that it really matters though, because they'll be showing at Bryant Park regardless, which is kind of the whole point.
This entire season has been kind of off for me, and apparently it's not just in my head. After all, if I'm not mistaken, this is the only season that hasn't had a reunion episode, right? Although, truth be told, I'm kind of glad. The four finalists were on Regis and Kelly this morning, and let me tell you; that was a whole bowl of awkward.
Before she lets them leave, Heidi gives the designers instructions for their collection. They are given a budget of $8,000, but they have to create a wedding gown as part of their collection. Presumably this is what they will be judged on to determine which three will be going to Bryant Park.
Since this is part one of the finale, not a whole lot is going to happen. Mainly Tim is visiting the designers at their homes to check on their progress. I always kind of like this, because I find it really interesting to see where these folks live. First up is Korto.
Tim visits her in her work space and from what I can tell, her collection is freakin' gorgeous (uh, other than her green snakeskin vagina dress). There is, however, a green halter dress that I want right now. Korto takes Tim home to meet her husband, adorable daughter and her drumming partner (not a euphemism). I don't know who he is, but I hope he lives there. I like the idea of Korto waking up in the middle of the night, turning on the living room light, saying "let's go" to her drumming partner and jamming at 3 am.
Next up is Leanne in Portland. Her collection looks very … blue. The clothes on the hangers kind of remind me of an upscale baby boutique. The actual designs though, are of course gorgeous.
Whoa. I love Jerell, but I've got to admit: I've never understood his design sensibility. He shows Tim this dress that involves netting and looks like something from Madonna's "Like a Virgin" tour. Some of the other ones are more promising, but still. As Tim would say, "this concerns me." At home with his mom and sister, Jerell makes Tim get a little teary as he talks about how his father drove trucks to support his family. It's very lovely.
Ack! Kenley lives in Brooklyn? Why didn't anybody tell me this? I guess I left just in time, although having her live so closely to me still is unsettling. Okay. However, I do have a few nice things to say: one, I like her apartment. Two, that crazy ass yellow ostrich (or whatever) feather dress is kind of kooky and awesome.
After everybody returns to New York, Tim tells the designers that they have one more challenge: to create a bridesmaid dress to accompany their wedding dress. They are not happy. You know what would make me happy? If they would design a bridesmaid's dress for me. My sister is getting married November 8th, and she still hasn't picked out dresses for us.
Runway:
Jerell: His dress is completely crazy and over-the-top. It's definitely eye-catching, but I feel like the more you look at it, the more it looks like a bunch of tulle and silk just wrapped around a model. His bridesmaid dress is an iridescent green that alternately looks lovely and tacky.
Kenley: Oh my God, I didn't realize that the crazy feather dress was her wedding dress. I think that makes it ten times more awesome. Her bridesmaid's dress is a blue bubble-skirted number, and I've got to say, I kind of like it. Although, if you had that bride and five bridesmaids standing up in those dresses during an actual wedding, you would have quite the space issue on your hands.
Korto: Her wdding dress … doesn't actually look like a wedding dress at all. I love non-white wedding dresses, but I feel as though hers is so aggressively beige that it actually looks kind of dowdy. She also used the same color for the bridesmaid's dress, which I don't like. The actual design, however, is gorgeous. A backless halter dress may not be the most practical thing, but whatever.
Leanne: She took the most traditional route. I really like the wave pattern on both dresses, but I'm not in love with the excessive poofiness of the wedding dress. The bridesmaid's dress is nice, but I hate the color. I just really loathe pastels in bridesmaid's dresses though.
Judging:
The judges are falling all over themselves complementing Leanne's dresses. Michael Kors says that as soon as it came down the runway, he knew it was hers. Michael says the word "boobs" a lot when critiquing Jerell's wedding dress and calls it "garish." Heidi says that it's "messy." The judges say that Kenley's dress is a dead ringer for an Alexander McQueen design, but Michael says it's done beautifully and that the bridesmaid's dress is "the cutest damn thing I've ever seen." Heidi tells Korto that she wouldn't want to wear her wedding dress. Nina says that her bridesmaid's dress has no relevance to her wedding dress.
Heidi brings the designers back out and tells Leanne and Kenley that they will both compete at fashion week. That leaves Jerell and Korto to duke it out for the last spot. Unsurprisingly, that spot goes to Korto, making this the first time in PR history that the final three are all women. Although I really love Jerell, I can't say I disagree with this decision. However, as I mentioned earlier, he still gets to show at Bryant Park, so he still basically wins.
Next Week: Bryant Park! We find out who wins the last season of PR on Bravo.
Your Daily Blend of Entertainment News
Your Daily Blend of Entertainment News
Thank you for signing up to CinemaBlend. You will receive a verification email shortly.
There was a problem. Please refresh the page and try again.