TV Recap: Project Runway - Finale Part 1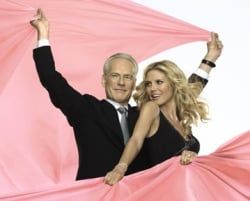 Previously:
Sweet P: is out, Rami and Chris are both in—for now.
Challenge:
We get right to it this week. Heidi tells the remaining designers that their challenge is to create 12 looks for fashion week with five months and a budget of $8,000. Jillian and Christian are guaranteed a spot, while Rami and Chris will be competing against each other before fashion week. Once the designers have one final toast with Heidi and Tim on the rooftop of Gotham apartments, they all go home to work on their collections.
Christian's Visit:
3 ½ months later, Tim goes and visits the literal closet that Christian works out of. Tim is concerned about Christian's feather pants finale look and tells him he needs to bring an "editing eye" to everything he's doing. To his credit, Christian seems to be actually listening to what he says.
Jillian's Visit:
Unsurprisingly, Jillian's first design is a structured jacket. Tim loves it, but doesn't understand her overall palette. He calls it a "cloudy day." She takes him to Long Island to meet her family and her boyfriend. Her mom basically told her she would be famous, so that's why she's a designer?
Rami's Visit:
Next, Tim hops on a plane to visit Rami in L.A. Hey, did you know that Rami was from Jerusalem? Well, he is, in case you missed it the other 88 times he's mentioned it in the course of the show. Also? His mother (who passed away when he was 5) looks exactly like Jillian. Seriously. It's totally creepy.
So Tim visits Rami's studio and while he loves his first look, tells him that the rest of it looks really "hammered and nailed" and that one coat is "really effin' heavy." Heh.
Chris' Visit:
Tim heads back to New York to visit Chris and is really impressed with his space. Unfortunately, Tim's gag reflex starts kicking in when Chris tells him that he used actual human hair to trim some of his garments. Tim tells Chris that he's been "living in the monkey house." Holy crap. They visit one of Chris' friend's apartments, and it is insane. It looks like Versailles in hell. I can't even describe it.
Back in NY:
The reunion is pretty cute. These guys obviously all actually like each other—in their own catty little ways. Rami and Chris get their three looks ready to show the judges. All four designers gather 'round in the design room while Tim gives Rami and Chris their last challenge. They each get a partner to help them. Rami gets Jillian and Chris gets Christian.
The designers are getting their models ready, and Chris chose his hair outfits. Oh no. I love Chris, but this isn't really looking great for him. Plus, Rami looks as though he chose some gorgeously-constructed designs.
Runway:
Rami shows an intricate blue jacket, a short, really cute draped black and white dress and a long, gorgeous tiered ruffle black dress.
Chris shows his hair jacket with a hair skirt. The design itself is nice, but come on. It's hair. Next is a lace flapper dress—with hair and third is a weird, black crushed velvet floor-length dress with cut outs.
Judging:
Michael Kors says that yes, the human hair is kind of creepy, but commends him for thinking outside of the box. There's a skirt made out of black chrome safety pins of which he admires the construction, but calls the long black dress a "black velvet condom." Heidi and Nina are both impressed with the creativity as well, but think that the models are a bit over-designed.
Despite the fact that they got on him so much about draping, Nina tells Rami that her favorite look is his draped short dress. She worries about the proportions of the coat, saying that it may have too much volume—which they totally wouldn't be saying if it were Christian's design, but whatever.
The judges are impressed with the fact that Rami listened to them and seems to have some commercial viability. Michael Kors is impressed with Chris' guts and tailoring, but is still afraid that he's a little too costumey. Nina defends him however, saying that many great designers started out as costume designers.
They bring Chris and Rami back out. The judges tell them how difficult their decision was. Unsurprisingly, the judges give the third slot to Rami. I would be more upset, since I love Chris and all, but even though he's no longer in the running, he (along with Sweet P) still showed at Bryant Park.
Next Week:
Bryant Park!
Your Daily Blend of Entertainment News
Your Daily Blend of Entertainment News
Thank you for signing up to CinemaBlend. You will receive a verification email shortly.
There was a problem. Please refresh the page and try again.