TV Recap: Project Runway - Finale Part II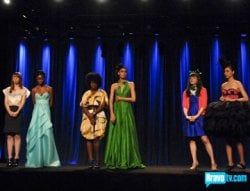 God, I'm so irritated with this show right now. It's after 11:00 as I write this and I haven't watched the episode yet. Why? Because the geniuses at Bravo decided to schedule the frickin' finale against the final presidential debate. Seriously Bravo? Seriously? You couldn't have checked the calendar and scheduled this a little better? Even Top Model had the decency to air a clip show tonight. This is just one more reason that this has been the most annoying season of Project Runway ever.
Previously: I really like Jerell, but his designs never really made sense to me. The judges apparently feel the same way, as he is eliminated. The final three are all women, for the first time in PR history.
Tim visits the three ladies in the design room tells them that they will be showing only ten looks instead of the twelve that they've created, so they need to edit (nice euphemism!) two of their looks before Bryant Park.
After model casting, Tim comes back to check on the designers and, Oh. My. God. After Kenley starts blah blahing about how she doesn't agree with him or the judges, Tim Gunn actually rolls his eyes! Of course, he did it after he turned and walked away from her, but still. Tim Gunn rolling his eyes at you is akin to Mother Teresa slapping your face and calling you a whore. It's heavy stuff.
Oh, God. Kenley's need for approval is really, really depressing. When she interviews about proving to her family that she's been doing something with her life for the past three years, I just feel sad.
Runway:
Jennifer Lopez was supposed to be the guest judge for the finale, but she "had a foot injury," so Tim Gunn stepped in! Yay Tim Gunn! People actually went "awwww" when they saw him. Kenley is rightfully pooping her pants. Heh.
Kenley is wearing a plant on her head. Her collection is very … colorful. But dude, nobody claps for like, the first five dresses. However, she shows the bridesmaid's dress which is cute, and the looks after that aren't terrible. A couple of them even border on cute. You can check out all of the designs here .
Korto's collection involves a lot of silk and it's all beautifully made. I'm actually really impressed with everything she shows. The second dress that almost showed the model's hoo-ha scared me a little bit, but otherwise, I love the designs, the fabrics and the colors. You can see all of Korto's designs here.
Leanne seems to be the fan favorite. She seems to get the biggest round of applause when she comes onstage. Design-wise, she's probably been my favorite throughout the show but I'm just so horribly bored by her color palate. I like the wave design, but it gets repetitive to the point of looking gimmicky. Overall, I'm pretty disappointed. You can see all of Leanne's designs here.
Judging:
Michael Kors is impressed with the hand painting that Kenley did on her garments. Nina and Tim also had positive things to say, although Nina says that her floral dress looks like a Ballenciaga dress. Michael loves Korto's collection. Nina says that she's phenomenal with color, but Heidi says that some of the pieces look like they're overworked. Michael says that Leanne's workmanship is divine. Nina appreciated the fact that she showed, skirts, pants, dresses and jackets. Michael is afraid that she overused the waves or the "petals," and Nina is similarly afraid that Leanne is one-note.
Heidi calls the designers back out and tells them that they each put on a great show. Heidi immediately tells Kenley that she's out, which, at least partially saves the season for me. Also, with her orange sweater and her stupid headgear, the close-up shot of her makes her look like she's dressed up like a pumpkin for her 3rd grade Thanksgiving play. It's down to Leanne and Korto, and Leanne wins. I'm not surprised. Although I liked Korto's final collection more, Leanne is a really talented designer, so I'm not too disappointed.
So Leanne and Korto came in first and second, respectively, which is the best way this season could have ended. Unfortunately, this season just did nothing for me. What do you guys think? Did they pick the right winner? How does this season stack up against the others?
Your Daily Blend of Entertainment News
Your Daily Blend of Entertainment News
Thank you for signing up to CinemaBlend. You will receive a verification email shortly.
There was a problem. Please refresh the page and try again.