TV Recap: Project Runway - On Garde!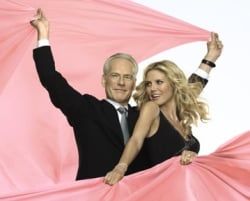 Previously:
Christian tussled with a teenager; Kevin decided not to hem his dress and was eliminated. Poor Kevin. Victorya (lamely) won.
Gotham Apartments:
Christian is still complaining about his client. Of course. No gratuitous shirtless shots? Has the world gone mad?
Challenge/Model Swap:
They all have funky hairstyles and the challenge is to make an avant-garde design based on said funky hairstyle. Because they weren't used in the last challenge, two of the models are getting eliminated. Katie and Eviva are out and....zzzzz.
Back in the design room, Tim is giving them the rest of the challenge. The avant-garde look that they're tasked with doesn't have to be practical or even that wearable. Cool! Tim says they have to work in teams of two—Victorya predictably looks like she's going to kill. Even better, Tim is choosing the teams randomly. The teams are as follows: Kit and Ricky, Sweet P and Rami, Chris and Christian, Victorya and Jillian. I like these combos. The budget is $300 and they have two days to complete the look.
Day 2:
This is amazing. Tim comes into the design room and drops a huge bomb. He tells the designers that in addition to their crazy avant-garde piece, they have to show a ready-to-wear design that embodies the essence of the avant garde outfit. Everybody collectively craps their pants and Christian brandishes a pair of shears—at Tim. The designers get 15 minutes to talk amongst themselves, an extra $50 and until 1 am in order to complete the completely new design. Oh, plus only one team member is allowed to go to Mood.
Model fitting:
Kit and Ricky seem to be working really well together and love their avant-garde piece once their model puts it on. Chris and Christian also seem to be having a good time and are happy with their outfit. Chris interviews that his hope for tomorrow is that "our model Marcia comes out and peoples jaws drop to the floor---and they never forget it as long as they live." Well there you go.
On the other end of the spectrum, Rami doesn't trust Sweet P at all and seems to be overriding every one of her decisions. She doesn't agree with the amount of crap he's adding to the dress in an effort to make it more avant-garde. He does, however let her do the ready-to-wear look. He's still freaking out on her though. Jillian and Victorya both have time management issues, so their model only gets to try on a pant. Jillian says that she and Victorya are still in the "development stage." Yikes.
6 hours before the end of Day 2, Tim says he has a special guest. It's Nathaniel Hawkins, the lead stylist for TRESemme. He's ostensibly there to consult with them about the hairstyles for the avant-garde look, but in reality, he's there so Bravo can get more of that sweet, sweet product placement money. He's also there to announce that the winning look and the model will be featured in a TRESemme ad in Elle magazine.
Tim comes in and calls Chris and Christian's design "staggering," but says that the translation to ready-to-wear worries him. I think it looks cute, but Tim says it looks cheap. Tim also feels that Kit and Ricky's dress may be more "costume" than "avant-garde." As far as Rami and Sweet P are concerned, Tim worries that the Avant-Garde design isn't over the top enough. Rami counters with "you have not seen me do corsets." Uh, okay. Not really the point though. Tim wants to assert that Victorya and Jillian's coat is fabulous, but is very worried about their time. It's so bad, in fact, that by the end of day two they haven't even started on their second look.
Runway:
Italian designer Alberta Ferretti is this week's guest judge. This apparently excites Sweet P very much.
Rami and Sweet P's avant-garde dress is boring as crap. It's basically a champagne-colored corset with a bunch of fabric draped over it. Underneath she's wearing black pants that look like any pair of black pants from The Gap or Old Navy or whatever. The ready-to-wear dress that Sweet P designed is adorable. It's short and flowy with one strap and is a very pretty grey.
Chris and Christian's avant-garde dress is just…whoa. It's gigantic. It's in a champagne/peach color and is basically hundreds of layers of ruffles with a gigantic peacock-type plume coming off of her shoulder. It's kind of awesome. Their ready-to-wear look is adorable and chic. The top is sleeveless and incorporates the ruffles. It's belted and worn with a tan pencil skirt.
Kit and Ricky's dress is big, but that's kind of it. It's nice, but not very dramatic. The ready-to-wear look is cute, but is a very simple floral print.
Victorya and Jillian's black avant-garde trenchcoat and its pink plaid lining are very dramatic. The khaki riding pants and white button-down underneath do nothing for me though. The ready-to-wear look is a black dress that also incorporates the pink plaid. It was an afterthought and definitely looks that way.
Heidi asks Rami and Sweet P and Kit and Ricky to step forward. Their teams have the lowest scores. She wants to talk to the teams with the highest scores first. The judges are in absolute awe of Chris and Christian's dress—with good reason. It's amazing. They're impressed with Victorya and Jillian, but I don't get it. The coat is amazing, but that's about it for me.
The designers with the lowest scores return. The judges all seem to like Sweet P's dress. Michael Kors even says that it's more "forward looking" than the avant-garde piece. The judges think that Kit and Ricky's dress looks cheap—like the model ripped the sheets off the bed and ran out the door. Heidi says it doesn't look well-made and Nina says that the ready-to-wear outfit is "equally disappointing."
All of the designers come back out. Christian wins, which is crap. It's awesome in that his team totally deserved to win, but it's crap in that the avant-garde dress totally has Chris written all over it. Plus, he got kicked off and he's come back as one of the best designers. Come on! I understand that Christian was the team leader, but still. Anyway, at least Victorya and Jillian's stupid jodhpurs didn't win. Chris, Victorya and Jillian are, of course, safe.
Now we're down to the lowest scorers: Ricky is in, as is Sweet P (yay!) That means that it's down to Rami and Kit. Rami's avant-garde look wasn't dramatic, while Kit's look wasn't fashion-forward. In the end, Kit is out.
This was a fascinating challenge. I love what they're doing this season, despite the fact that there aren't quite the number of breakout characters as usual. Case in point: nobody said anything awesome enough to give me a favorite moment of the episode.
Incidentally, a mildly interesting bit of news is I hear that Kit and Sweet P still hang out. Mama punk and baby punk. Cute! However, a downright fascinating story about this season's PR cast involves Elisa. Remember how she talked about how a car hit her and she was in a coma? Well apparently she lost her memory after that. I found this out because a guy my boyfriend used to work with dated her for several years before her accident and when he ran into her afterwards, she had no memory of him or their relationship. It's a highly fascinating and touching story and he wrote about it on his blog. I highly recommend checking it out.
Next Week:
Field trip! Jillian starts crying. …Aaand so does Ricky.
Your Daily Blend of Entertainment News
Your Daily Blend of Entertainment News
Thank you for signing up to CinemaBlend. You will receive a verification email shortly.
There was a problem. Please refresh the page and try again.