TV Recap: Project Runway - Good Queen Fun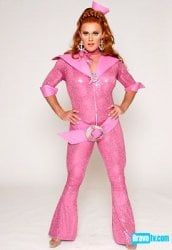 Previously: Keith won, while everyone else was Slutty, slutty, slutty. Kelli may have won the first challenge, but that apparently isn't enough to excuse bad taste and she's auf'd.
Chris is back! He's wearing false eyelashes and disco balls on his boobs, and I'm pretty sure his main reason for existing is just to make me happy. He's also on Runway to tell the designers what their challenge is this week: to design an outfit for a drag queen. This could very well be the best episode ever.
Each designer gets his or her very own drag queen for a model, and they are the most amazing group of people ever. I am so giddy and excited about this challenge. After they choose their models, the designers head to the design room where Tim gives them additional instructions. Basically, each drag queen has a very distinct personality and it is the designers' responsibility to incorporate that into their outfits. I have a feeling that this is going to present a problem for some of them *cough*Daniel*cough*. Tim encourages them to be theatrical and over-the-top and tells them that they'll have a budget of $200 and until the end of tomorrow to finish. In addition, the designs will be auctioned off and the proceeds will go to Broadway Cares – Equity Fights AIDS.
Here's what I love. All of the designers hate Blayne as much as I do. He's so obviously trying to make this "licious" thing work, and it's just not happening. As Leanne said, it's "barflicious."
The next day, the drag queens come in for a fitting, and they're dressed as dudes. It's kind of funny, because most of them look like Teamsters. Korto's model really likes her design, but the rest of the clients do not seem too pleased with what the designers are trying to put them in.
Tim brings Chris in to check out what the designers have been doing. They seem on board with Korto's design, but Tim tells Blayne that his outfit looks like a "pterodactyl at a gay Jurassic Park." This is certainly going to be the best line of the season, and I'm kind of heartbroken that it's wasted on Blayne.
Runway:
RuPaul is the guest judge. Am I the only one who thinks it's weird she didn't show up earlier in the episode?
Kenley: She designed a fairly simple silver sequined floor-length dress with a looong slit up the side. It has giant black and white feathers coming off of the back. While it's not the most elaborate design, it does fit the personality of her drag queen quite well.
Joe designed a pink sequined jumpsuit that he said is supposed to be "Ann Margaret on the Love Boat," but looks more like the most fun flight attendant ever.
Stella doesn't seem to have used leathuh at all, although she did put in some grommets. She has an interesting gothy dress with red plaid that looks like something that a misunderstood high school girl with a Singer, a tube of black lipstick and a Joy Division CD would sew for herself to attend prom "ironically."
Suede modified the green gloves and made Hedda Lettuce look decidedly less Godzilla-y. He actually ended up with a kicky little green number that seems to go with her personality. I am also really freaked out by how Disco Suede is consistently coming up with some of my favorite designs, so let's move on.
Daniel designed a dress that would have been perfect on John Leguizamo in To Wong Foo, but I have a feeling that the judges are going to think it's not elaborate or over-the-top enough.
Terri designed a rad Geisha-inspired design. It's red, white, blue, black and yellow and makes no sense whatsoever, but in a great way.
Jerell designed a great outfit; it's a blue and green sequined mini dress with an elaborate popped collar. However, it looks completely out of sync with what his client normally wears.
Korto's outfit is really great. It's a red sequined mini dress with a very dramatic removable red skirt and sculptural sequined flames on the neck.
Keith's "Wookie onesie," as Jerell called it, is really underwhelming. First of all, it's black and white, which, yawn. Also, it's just strips of fabric draped about. He is to strips of fabric what Rami was to draping. However, I doubt he'll make it as far as Rami did.
Leanne designed a black, silver and blue structured dress and jacket combo. It's not the most interesting thing I've ever seen, but it looks well-constructed.
Judging:
Heidi tells the following designers to step forward: Blayne, Kenley, Disco Suede, Stella, and Leanne. They are all safe. This leaves Keith, Daniel, Korto, Terri and Joe as the designers with the highest and lowest scores.
Ru Paul loves Terri's "super samurai" dress. Michael Kors calls it "heaven." Heidi, on the other hand, thinks that Keith's design is "messy." RuPaul calls it "random." Nina doesn't know what it is, and Michael thinks it's a "sad chicken." Everyone enjoys how Joe's outfit shows off his model's assets. RuPaul thinks that Jerell's dress is too long and Michael Kors thinks that it's kind of "normal." RuPaul loves Korto's detachable skirt and Michael Kors is pleased with how flattering it is. Nobody thinks Daniel's design is interesting or dramatic enough. RuPaul is afraid that wearing Daniel's dress would make a drag queen have to resort to "selling hormones up in Harlem" to make rent. Now that's what I call a bad design.
Heidi brings the designers back out and tells Terri that she's in. Joe wins, and I'm really surprised. I enjoyed his outfit, but it was pretty simple. Korto's design was elaborate, dramatic, and just impressive overall. She, of course, is in, but I really think she deserved to win this one. Jerell is also in, which leaves Daniel and Keith in the bottom two. Heidi accuses Daniel of playing it safe and giving them nothing but excuses, while Keith's outfit was random and unpolished. Daniel is out, while Keith lives to see another week.
Frankly, I would have been fine with either of these guys getting auf'd. Heidi's criticisms of their designs could really apply to their designs in any given week. I just don't think either of them has very much to offer. So while I think the judges slightly missed the mark with the winner, they were right on with the loser.
Next Week: Stella gets the hammer out again and "bad mommy" Laura is back! I love Runway reunions.
Your Daily Blend of Entertainment News
Your Daily Blend of Entertainment News
Thank you for signing up to CinemaBlend. You will receive a verification email shortly.
There was a problem. Please refresh the page and try again.