TV Recap: Project Runway - Raw Talent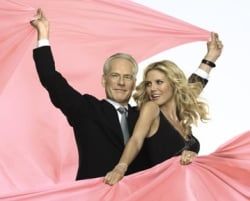 Gotham Apartments:
Nobody understands why Ricky is still on this show.
Model Swap/Challenge:
Ricky stays with Amanda, so Jacqueline is out and Heidi doesn't give them their challenge, telling the designers that Tim will meet them in the workroom the next morning.
The next day, Tim takes them all on a "fabulous" and "fierce" field trip. They go downstairs to the runway and are greeted by female WWE wrestlers! The challenge is to create an outfit for the WWE Divas to wear in the ring. Ha ha HA! This is going to be amazing.
The designers get 30 minutes to meet with their clients, followed by $100 and 30 minutes at…Spandex House. The designers are also given a lot of time. They have the rest of this day, and all of the next day.
Workroom:
Sweet P immediately has problems; her early design looks like as Christian says, "a tranny ice queen." Chris, on the other hand, is THRILLED with this challenge. Seriously. I haven't seen even a little bit of his design, but if this isn't the challenge that he wins, then something is seriously wrong with this show and the world.
During Tim's walkthrough, Chris seems to be in good shape (his client loves her leopard-print outfit), but Tim tells Sweet P her client looks like she's getting ready to go to the WWE hospital. He's also concerned about the color of Ricky's bright orange design, but it seems completely appropriate to me. Christian manages to make the same damn design he always does. It involves puffy sleeves. Rami's design looks like it belongs on an ice dancer. Tim calls Jillian's design cute and Christian is, once again, "fierce." When Tim visits Sweet P the second time around, it leads to my…
…Favorite Moment of the Episode:
I think Tim's pretty tired at this point. He goes over to Sweet P and reiterates his concern from earlier, saying that the coat is very "Eva Gabor in Green Acres." He then wonders if it can be mitigated with the white feather boa Sweet P has. He puts the boa on the mannequin and is physically revolted by what he has just done, crying, "Talk about Eva Gabor in Green Acres, uch! Jesus!" and just basically looks as though he needs to go scrub himself clean. The bad fashion. It burns him.
Runway:
We have two guest judges this week: Heatherette designers Richie Rich and Traver Rains.
Christian's design is super-revealing leather and lace. He has his signature puffy-sleeved jacket with a fur trim, covering a sheer black lace top. She has tights made out of the same sheer black lace covered by assless leather chaps. It's insane.
Jillian designed a really kick-ass electric blue stripper superhero outfit. It's boy shorts and a crisscross blue top with knee-high white boots. It's the perfect outfit for the challenge.
Ricky designed a really cute orange…bathing suit with a gold cover-up. It's a nice design, but not really what the challenge called for.
Chris's outfit is similar to Jillian's in that it's a bra top with crisscrossed straps and a pair of boy shorts. His fabric is leopard print and black sequins with gloves and a leopard-print hooded coat.
Sweet P's outfit is a bra top with boy shorts. It's silver sequins with a white shimmery feather-trimmed robe. It looks very bedtime, but is totally passable.
Rami's client looks like an ice dancing stripper. Although, it's not as bad when she takes off the hot pink skirt covering her hot pink boy shorts.
Judging:
Heidi calls everybody onto the runway and tells Jillian that her outfit really works. Michael Kors promptly tells everyone that he's so the fish out of water here. He "feels like the Pope at a sex club." Now that's an image. The judges are kind of "meh" on Rami's design, with Nina stating unequivocally that she hates the hot pink color. Heidi challenges Christian's client to a bout in the ring, and everybody likes his outfit. Sweet P's model says she wanted a bigger robe for more of a reveal. The judges adore Chris's outfit and say that it looks expensive. Nina likes Ricky's design as a bathing suit, but not as a costume. She also isn't fond of the cover-up.
We come back from commercial and Jillian is in. Chris actually wins! Finally. Heidi tells him that Maria will wear his outfit in the ring in an upcoming match. Christian is, of course, in. Rami is also in, leaving Ricky and Sweet P in the bottom two. Heidi tells Ricky that he missed the mark and Sweet P's silhouette and fit didn't match her client's persona.
Sweet P is in, and after winning last week, Ricky is finally, mercifully, out. Surprisingly, he doesn't shed a single tear.
Next Week:
One last field trip. This time they actually get to leave the building!
Your Daily Blend of Entertainment News
Your Daily Blend of Entertainment News
Thank you for signing up to CinemaBlend. You will receive a verification email shortly.
There was a problem. Please refresh the page and try again.