TV Recap: Project Runway - Season 5 Premiere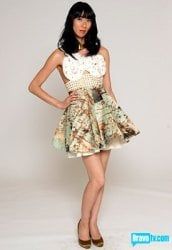 Okay, here we are people. This is the beginning of Project Runway's 5th and last season on Bravo before it moves to Lifetime. In the interest of brevity, I'm not going to name and list all of the contestants; you can find that here. Most of them aren't going to do anything interesting in this episode anyway, so we'll just get to the ones who do. Let's get this started.
So, we're about a minute in, and I definitely hate Blayne. Here's his deal: He's been designing clothes since he was 16, he writes stuff like "Sup Holla" on chalkboards and he is addicted to tanning. My boyfriend also thinks he is addicted to meth, but that is entirely speculative.
Oh, dear God. So, let us take a minute to talk about Suede. Suede has actually designed jeans for real designers, such as Jordache and Todd Oldham. He also talks in the third person, does finger guns, has a blue Mohawk, owns a sleeveless denim jacket with his name bedazzled on the back, and is 37 years old. Plus, he goes by the name Suede. My boyfriend, who is apparently contributing a great deal to this recap, says that he is this season's Disco Stu. Disco Stu, as you recall, got his name from trying to bedazzle "Disco Stud" on the back of a jacket and running out of room. Disco Suede is going to rock the runway!
Guys, Leanne's clothing line is really pretty. I would wear most of what they show. She also calls herself "the silent fashion assassin." Team Leanne!
It's rooftop meeting time at Atlas! Tim and Heidi look lovely, as usual. They have the whole designer meet and greet and nothing too interesting happens.
Early the next morning, Tim shows up to rally everyone for their first challenge. Tim walks his ducklings to the location, which turns out to be Gristedes, a New York grocery store, which was also the location for the first season one challenge. As Tim said, they've "come full circle."
Speaking of season 1, Austin Scarlett shows up to tell them about their challenge. Basically, they have to make an outfit using grocery store items. They have a budget of $75 and 30 minutes to make their purchases. They have until midnight to complete their look.
The designers get back to Parsons, where Tim comes in to tell them that the winning designer receives immunity. They get started, and I'm immediately worried. Joe's theme is Italian, and it looks as though he may be gluing pasta to his creation. Come on, Joe, you know they hate craft projects, and nothing says "craft project" like gluing macaroni to something.
Tim comes in with about five hours left in the day to check on everyone. He sees Blayne just standing around, so he goes to him first. Blayne introduces Tim to his design, which he calls "Girlicious." Tim charitably says that he's "not bored."
Tim visits Daniel and looks over his cup dress. Tim tells him he "has a wow factor going on," but cautions him that he has a lot of work to do. He's also impressed with Kelli's vacuum bag dress, but tells her to think it through and make it look finished.
So, uh, Stella chose garbage bags as her fabric. Just garbage bags. It turns out she got the crappy loud, crinkly ones that tear if you look at them. So she hasn't done anything. She tells Tim she has a dilemma, and Tim just shakes his head at her. Because, come on, lady. MAKE IT WORK.
Disco Suede makes a dress out of a table cloth and embellishes it with poop bags. It's a dress made out of a table cloth. Come on, Disco Suede, you can do better than that. Uh, presumably.
Korto also made a dress out of a table cloth. It's a nice dress, but it's just made out of a freakin' table cloth. Come on. Tim is equally unimpressed with Jerry's shower curtain raincoat. Oh, and just in case you were wondering, Tim is not enjoying Keith's table cloth either. Tim makes a general announcement and basically calls them all slackers—which they are. The day ends with Stella freaking out about her garbage bags and the majority of the designers trying to desperately cover their table cloths with marshmallows and such.
Runway:
Emily: Her dress is made out of a table cloth, balloons and a bouncy ball. It's a mini dress with a giant collar.
Jerell: His dress is a one-shoulder number made out of a lawn chair and cocktail umbrellas. He used a table cloth, but it's not very obvious.
Leanne: Her dress was also made out of a table cloth, but she covered it in marshmallows, meringue cookies and coffee filters to make a frothy pink party dress.
Korto: Her dress is flat out a table cloth dress. It's yellow and very pretty, but the only innovation comes in the kale and tomatoes she used as the collar.
Jennifer: She made a party dress out of paper towels. It's really well made, but may not be innovative enough. She also used lipstick to make kiss marks all over it.
Daniel: His blue plastic cup cocktail dress turned out nicely, but again, I wonder if it isn't too simple. He clearly spent a lot of time molding the cups.
Terri: So far, she's the first one not to do a dress. While she does use a red table cloth for a skirt, she also made a crocheted top out of mop heads. It's quite lovely.
Suede: Disco Suede didn't change his table cloth dress at all, really. He just made it uglier by sewing blue plastic squares all over it.
Stella: Her garbage bag dress looks like a garbage bag dress that was put together in 15 minutes.
Joe: He did the pasta skirt, but it doesn't look too bad. He used oven mitts as a shirt, which is only okay.
Kenley: Her dress used a table cloth, but she also made a bustier out of dodgeballs, which is kind of funny.
Jerry: He ended up making that raincoat, and it looks like a raincoat made out of a shower curtain. It's very "meh."
Wesley: His yellow dress is made out of the same table cloth as Korto's., but he used plastic cups and fly swatters to make very pretty rosettes.
Blayne: I don't even know how to describe what he sent out. He used windshield wipers, a jump rope and pot holders. He also scrawled "Girlicious" on the model's leg.
Kelli: Her paper dress came out nicely, but the top looks like two coffee filters taped to her boobs, not like an actual top.
Keith: He used a black and white table cloth and some netting to make a halter dress. It's nice, but the judges are going to be bored to death.
Judging:
Heidi tells the following designers to step forward: Daniel, Jerry, Korto, Stella, Kelli, and Blayne. Heidi then tells the remaining designers that they are safe, leaving the six designers with the highest and lowest scores.
Austin and Nina really enjoy Daniel's cup dress, but Michael thinks he could have gone further with the silhouette. Michael thinks Jerry's raincoat makes his model look like a bridal nurse, and the dress underneath it looks like a Handi-Wipe gone wrong. Austin thinks Korto's dress is chic. The other judges agree, which surprises me. Not because it's not a good design, because it's quite beautiful. It just seems too safe to me. Michael calls Stella's garbage dress bag boring and the other judges are similarly unimpressed. Nina likes the way Kelli thinks and calls her resourceful. The other judges are very impressed with her innovation and eye for detail. The judges are definitely not bored by Blayne's creation, but Heidi calls it "Playboy Bunny gone grunge."
Heidi calls the designers back to the stage. Korto is in, and Kelli is the winner. I think the spiral notebook eye hooks put her over the edge. Daniel is also, of course, safe. We also live to see another day of Blayne.
It's down to Stella and Jerry. Heidi tells Jerry that his look was not wearable. She also tells Stella she took the easy way out. Jerry is the first one eliminated, for his outfit that you would wear to commit murder.
I absolutely think the judges got it right. Jerry is that bland contestant that seems to pop up every season without the ability to be innovative. As much as I think Blayne and Disco Suede are just clowns, I'm infinitely more interested in seeing what atrocities they have in store than I am in anything Jerry would ever design.
Your Daily Blend of Entertainment News
Your Daily Blend of Entertainment News
Thank you for signing up to CinemaBlend. You will receive a verification email shortly.
There was a problem. Please refresh the page and try again.