TV Recap: Project Runway - What A Girl Wants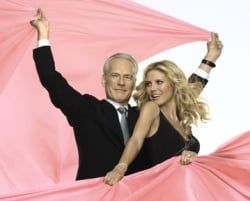 Previously:
Caaaaaaaaandy! Rami wins with a stupid looking dress, Elisa's water-winged monstrosity gets her kicked off.
Gotham Apartments:
As part of his prize for winning last week, Rami also receives this week's gratuitous shirtless shot. He's even wrapped in a towel! Congratulations Rami; I'm sure it's things like this that make writing all of those student loan checks seem worthwhile.
Victorya admits that crazily, she misses Elisa. I feel the same way. As soon as I saw her, I was convinced I would hate everything about her. It turned out though, while she did many, many things that annoyed me, I found her to be kind of endearing. Probably because the rest of this season's cast is so damn boring.
Challenge:
Heidi says it's all about creating memories. They'll be making an outfit for one of the most important days of a woman's life. Everybody is of course thinking "wedding," but that is because they have never seen a reality show before. So instead of models, a bunch of high school cheerleaders come out from behind the scrim. Heidi tells the designers that this week's challenge is to make them prom dresses. Victorya looks just as pissed as she did in the Hershey store last week. So in addition to candy, we can add "children" to a list of things she hates. Next up: puppies and rainbows. Christian, of course, hates this idea, because he has to complain about everything, always.
Tim comes in and tells them that the girls will all have strong ideas about what they want their prom dresses to look like, but that it is still important for the designers to assert themselves. They have 30 minutes and then they'll be going to Mood, where they have a $250 budget. They have two days to complete their dresses.
The designers meet with their clients and they all seem pretty freaked out by the whole prom idea. Kit says she definitely wants to make something modest, while Kevin breaks down his Jersey prom days and gives me my
Favorite moment of the episode:
According to Kevin, who helpfully supplies his own prom picture in which he looks like a member of New Kids on the Block instead of a member of N*Sync, Jersey proms go like this: Everybody goes tanning and steals booze from their parents. See! Stereotypes are true! He promises that he's going to construct a chastity belt inside his dress.
Sweet P, meanwhile is dealing with a girl who basically wants a Paris Hilton VMA dress in ivory and Christian's client has some strong ideas and isn't going to let him walk all over her.
…Aaaand Ricky's crying.
Day Two:
Oof. Christian's dress is pretty hideous. It's kind of reminiscent of Malan's Miss USA log dress that got him eliminated last season. Meanwhile, he's helping to convince Victorya to change the entire look of her dress because she trusts his opinion. The model fitting includes mothers, making it twice as bad. Kevin's mom says the dress makes her daughter look pregnant. Chris' client and her mother are absolutely tickled over is giant drag portfolio. It's pretty adorable. Christian's client is as confused about the dress as I am.
Kevin has apparently never seen this show before because he is seriously considering not hemming his dress. He tells Tim that he doesn't think they'll notice. Seriously? Rami, meanwhile, is trying to convince Tim that his dress isn't weird and matronly. I think I may be with Tim on this one. Tim goes to visit Christian, who is pretty much having a breakdown. He says someone has to go, indicating that it's probably going to be him. Tim gets about as angry as his dulcet tones and even temper will allow him to get when he sternly tells Christian not to give up and that he needs to change his attitude and rally.
Bonus shirtless footage:
Before the runway, Ricky wanders around in just a towel.
Runway:
This week's guest judge is designer Gilles Mendel.
Sweet P's champagne-colored halter dress is gorgeous and her client looks great in it—which is no small feat, given that the shiny satin she used is horrendously unforgiving.
Victorya's dress is electric blue and has a short bubble skirt. It's really cute, although it strikes me as a little casual for prom (but maybe that's an old-fashioned way of thinking?). It reminds me of something Serena would wear on Gossip Girl.
Chris's dress is a shiny pea green satin with some interesting detail on the back, including a train. It's nice, but it kind of looks too big for her up top. I do have to mention that it does not in any way look costumey, so good job!
Kevin's dress is kind of "meh" for me. It's a short red halter dress and I can tell from even far away that it looks unfinished. I think it would have looked nicer if it were long.
Jillian's dress is really scary looking. It's a nasty seafoam color. The front comes down to about shin-length, while the back is longer. It's not a flattering look. Plus the top is baggy and the design on the bodice makes it look like her boobs have eyes.
Christian's dress just looks crazy. It's giant, poofy and unflattering. It's a short brown dress with black lace accents and the skirt looks like it's cut unevenly, but not on purpose.
Kit made a royal blue short dress with a blue, red, black and green stripes on the bodice. It's nice, but it's not blowing me away.
Ricky also did a short bubble dress in a pale shimmery pink with gold accents. It's very "prom-y," but in a good way.
Rami's dress is pea green and looks like a boring, drapy mess.
Judging:
Kit, Jillian and Chris are all safe, which is lame, because Jillian's dress is hideous. This leaves Ricky, Rami, Kevin, Victorya and Sweet P with the highest and lowest scores.
Everybody loves Sweet P's dress, while they think Kevin's dress is matronly. Michael Kors, of course, zeroes right in on the unfinished hem. Michael Kors also says Victorya's dress is chic and young. Heidi actually likes Christian's dress, but he immediately throws his client under the bus, which neither the client nor Nina Garcia likes. Ricky tells the judges that his dress is what the girl inside him would wear. Heh. The judges basically think it's pretty but boring. The judges think Rami's dress is too sophisticated and doesn't look like a prom dress. Michael Kors calls it old-fashioned.
So, this episode has made me think about my own prom, which is very appropriate because the guy I went to both of my proms with is becoming a dad. He's in the hospital right now, where his wife is giving birth to their son. Congratulations Gav and Heather!
Ahem. Now back to our regularly scheduled recap.
After deliberations, Heidi tells the designers that they only liked two of them this week: Victorya and Sweet P. Victorya wins, of course, because her dress was "gutsy" even though Sweet P's was exquisitely made with a very difficult fabric and actually looks like a prom dress. Blerg.
Ricky and Rami are both in, which means that Christian and Kevin are the final two. This, unfortunately, does not look good for Kevin, or me, BECAUSE MY TIVO JUST CUT OFF BEFORE THEY SAID WHO IS ELIMINATED. Come on, Bravo!
Okay, I just looked on the internet real quick and found out that Kevin was eliminated. I understand that the judges like Christian better overall, but I will miss that man and his complicated facial hair.
Next week:
Maybe Bravo will be awesome and keep the show within its allotted timeslot.
Your Daily Blend of Entertainment News
Your Daily Blend of Entertainment News
Thank you for signing up to CinemaBlend. You will receive a verification email shortly.
There was a problem. Please refresh the page and try again.