TV Recap: Project Runway - What's Your Sign?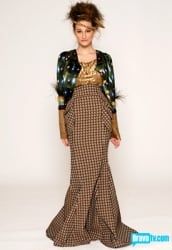 Previously: The designers had to design a look for Diane VonFurstenberg's Fall/Winter collection. Kenley cried, and cried, and cried. Leanne rightfully won, while ol' Leathuh Face was eliminated.
Heidi tells the designers that they have some special guests: it's the eliminated designers. Keith, by the way, does not seem over his elimination at all. The challenge is the same Avant-Garde challenge from last season, but the twist is that the current designers are being paired with the eliminated designers. Heidi assures them that the eliminated designers aren't coming back; they're just here to be tortured.
Back in the design room, Tim further explains that their designs will be inspired by the astrological sign of their partner. The designers have two days for the challenge and thirty minutes to decide who will be the inspiration.
Can I say I love the fact that Blayne and Stella are partners? Whatever they come up with is going to be absolutely ridiculous. It involves leathuh straps! I'm not so excited about Kenley, who makes me want to bash my head up against the wall. Her design is a hideous mix of florals and zebra print, and she's not taking Tim's advice. Listen to Tim!
When they get to Parson's the next morning, there's a pretty heavy-duty note from Heidi: not only are they invited to show their looks at 8PM at the Natural History Museum, but two designers are going to be eliminated in this challenge. Plus, Tim tells them that immunity is officially over. It's getting serious.
When they get to the Planetarium, the designers are greeted by even more special guests: designers from previous seasons! They're here to pick this week's winner.
Runway:
Francisco Costa is this week's guest judge.
Blayne's sign was Libra, and none of it makes sense. Heidi says that the color reminds her of old women's underwear and it basically looks like his model is pooping rainbow fabric. The leathuh straps are actually the best part.
Kenley's Aquarius design is as annoying as she is. It's Plaid, a heinous floral and leather and the shape looks like something Minnie Mouse would wear.
Terri's Leo dress does look lionish, and she did herself a big favor by ditching the hideous fur collar. However, the dress does absolutely nothing for me. It's not particularly pretty or interesting.
Korto's Aquarius design is just a little too literal for my taste. She made the back out of ruffles that look like waves, and there are these purple straps that remind me of seaweed. It's probably her weakest work.
Joe made a flamenco dress for Aries, the fire sign. I love this. The colors are fantastic and the shape of the skirt invokes fire without being too literal. It's gorgeous.
Jerell, who had Sagittarius, once again made a design with a million layers that do not make sense. It involves hounds tooth.
Leanne had Scorpio and made a beautifully constructed dress that is supposed to represent an exoskeleton. She does structure exceedingly well and knocks it out of the park again.
Disco Suede had Aquarius and veered pretty close to being too literal. Although he used different shades of blue, he managed to avoid that trap. What I don't understand is all of the bell shapes.
Judging:
Heidi calls Korto, Jerell, Leanne, and Joe's team. She tells them that one of them is the winner, but that they have to wait to find out who it is and sends them off of the runway. The remaining teams, made up of Blayne, Kenley, Disco Suede, Terri and Korto, have the lowest scores.
Nina tells Blayne that his design looks haphazard, while Michael says that his model is, indeed, pooping fabric. The judges do not like the fact that Terri and Keith couldn't work together and are equally unimpressed with her dress. Michael says that the taste flew right out the window. Nina doesn't understand how Kenley's dress relates to Aquarius in any way. Kenley, being an idiot, starts to argue with her. Michael just thinks it's boring. The judges don't think that Disco Suede pushed the envelope enough. He says he was going for refined, but they're not impressed.
Heidi cuts right to the chase and tells Jerell that he's the winner. Whaaaaaaaaaa? I'm so confused by this. It must have been really dark in that club. Leanne, Korto and Joe are in. Kenley is also in, which I find insulting. This leaves Terri, Blayne and Disco Stu.
Blayne is out, which I actually find shocking. His design completely sucked, but I really thought he'd stick around. Disco Suede is in, and Terri is the second designer to be out. I can't say she'll be missed at all. While I didn't find her design particularly hideous, she's never really impressed me.
Keith is still annoying, just by the way.
Next Week: more special guests; It looks like family members!
Your Daily Blend of Entertainment News
Your Daily Blend of Entertainment News
Thank you for signing up to CinemaBlend. You will receive a verification email shortly.
There was a problem. Please refresh the page and try again.