Is There Hope For Friday Night Lights?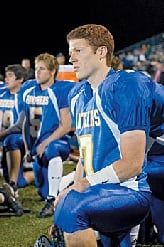 Just a week after I wrote this article about Friday Night Lights' seemingly slim chances of being picked up for a third season, we actually have some potentially good news about the future of the beloved football drama. NBC is reportedly shopping around a deal that could save the show while taking some of the financial burden off its shoulders.
According to Zap2It, NBC Universal has approached TNT, the CW, E! and G4 about possibly sharing Friday Night Lights' third season. The plan would probably work similarly to that of another NBC show, Law & Order: Criminal Intent. CI moved to USA this season, where it premiered new episodes. NBC has been airing the repeats on Wednesday nights for the past several weeks. The big difference between this arrangement and the proposed FNL deal is that USA is owned by NBC Universal, while TNT, the CW, etc. are not.
Although still considered low-rated, Friday Night Lights' ratings were actually up about 250,000 viewers over last season, giving it 6.2 million per week. 2.2 million of its viewers are in the coveted 18-49 demographic; which is pretty good for a Friday night. The other thing that FNL has working in its favor is the makeup of its viewers. Most of them are affluent, which advertisers love. So while it may not have the most viewers on TV, it has a good amount of what advertisers would consider "quality" viewers. Whether this combined with the critical praise and fan devotion will be enough to save the series remains to be seen, but if there's anything I've learned from Coach Taylor it's that "clear eyes, full hearts, can't lose!"
Your Daily Blend of Entertainment News
Your Daily Blend of Entertainment News
Thank you for signing up to CinemaBlend. You will receive a verification email shortly.
There was a problem. Please refresh the page and try again.