Top Chef All-Stars: Power Rankings Week 5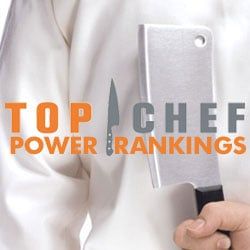 Finally, after weeks and weeks of sketchy predictions, all of our panelists had a pretty good week. The bottom five for the elimination challenge were Carla, Jamie, Antonia, Casey and Tre. That's three of our collective bottom four, though ultimately Casey went home rather than Jamie. I suspect a lot of viewers were upset by this decision, I certainly was, but that doesn't mean the judges made the wrong decision. Customers were walking out because they were so hungry, and yet Casey's horrifying chicken feet remained half finished on a lot of plates. What a team disaster. A couple contestants even speculated the judges wouldn't award a winner; however, Dale took the top prize for his duo of authentic dishes.
It was a pretty solid week for the favorites. Richard and Marcel both impressed in the Quickfire and finished middle of the pack during the elimination challenge. As usual, Angelo performed quite well, most likely finishing second to Dale's victory at the Dim Sum. It was also a good week for three Dark Horses. Both Fabio and Tiffany were rewarded for strong elimination dishes at the judges' table, and Mike Isabella took home a Prius and immunity for his Quickfire win. Maybe Brain's constant weekly overvaluing wasn't so far off.
The Cinema Blend Top Chef Power Rankings are an averaging of weekly rankings put together by Cinema Blend writers Mack Rawden and Jessica Grabert, as well as professional poker player Brain Callaher. 18 points are awarded for a first place vote, while this week 7 were given for a last place vote. 6 contestants have already been eliminated, therefore they automatically receive the bottom slots. Here's a look at how this week's order, as well as a brief analysis on why they ended up where.
The Favorites
#1) Richard Blais (54): For the fifth week in a row, Richard once again snagged every single first place vote, and still, his overall performance has to be considered a bit of a disappointment. Yes, he has one elimination win, two quickfire wins, several highs and no lows, but it could still be argued Angelo has been the stronger overall competitor. It's hard to knock on a guy for consistently performing very well, I think many of us would just like to see him start dominating. It'll happen one of these weeks, hopefully sooner rather than later.
#2) Angelo Sosa (51): This week's challenge was a disaster, one that left most of the crew believing they and everyone else had a losing dish and deserved to be on the bottom. Except for Angelo, who knowingly ended high for the fourth time in five weeks and was unhappy for one reason: He didn't win. That striving for excellence, that capability to realize that unless you are the declared winner there is always someone to beat, has made Angelo a humble, aware competitor. If he keeps his head in the game there's few who can beat him, but those few could prove tenuous or far better over the long haul.
The Contenders
#3) Marcel Vigneron (45): Like Richard and Angelo, Marcel is yet to find himself at the bottom at judges' table, but with his only win coming in a team alongside those two brilliant chefs, he remains just outside the favorites. Marcel has always been best when surprising the judges with bizarre usages of ingredients, foams and jellys. We've seen a lot of that this year during the quickfires, but more often than not, his elimination efforts have been just a little above-average and forgettable. Marcel should never be predictable. He's the guy that goes big or goes home. Lately he's been the guy that survives.
#3) Tiffani Faison (45): Sometimes it's really hard to differentiate between the middle of the road dishes. Tiffani's elimination dish was ridiculed by the judges for being essentially a bite of sesame, but there ended up being at least five worse efforts. Was this nitpicky or was everyone else just godawful? Either way, Tiffani has slowly slid down the Power Rankings since she initially debuted with all second place votes. She needs to show something or these mediocre efforts will put her back on the chopping block once the lesser players are gone.
#5) Dale Talde (44): Dale, pulling through with a second win. Nice. I'd love to say this was all effort on Dale's part, but the fact is, Dale was cooking in his element. He's used to cooking Asian cuisine, in a tight kitchen laid heavy with woks and other unique cooking devices. While the other contestants were falling on their faces trying to get dim sum dishes to the tables, Dale was composed, completing two dishes without batting an eyelash. I don't want to say this was not impressive, because the skill he showed was an impressive one to have honed. I don't want to say he isn't a contender, because he has proved he is. I am saying, let's wait and see what happens when he's thrown in with the big fishes next week. When he's again out of his element, we'll see if he sinks or swims.
The Dark Horses
#6) Tre Wilcox (38): Tre is perhaps more maddening than anyone else in the competition. He's good. He's really good, but sometimes he produces absolute shit. That salmon dish would have sent him home if he didn't have immunity, and this week his dessert was ridiculed by the judges. Lucky for him several people were worse. You can only underwhelm for so long before one week you actually have the worst dish. As a result, I'm dropping Tre out of the contenders and into the Dark Horses for the first time. Maybe this is where he belonged the whole time.
#7) Mike Isabella (36): Brain will be happy this week, as he's always iterating Mike is more of a competitor than anyone would expect. He proved Brain's hypothesis this week, winning the Quickfire and taking home a brand new Toyota Prius. Sort of like Kevin from last season, I don't think people take Mike completely seriously because of the way he handles himself. It just needs to be remembered that the way you come across on camera has nothing to do with your cooking, and while I don't expect Mike to come home with the big money, I do expect him to go hard, and maybe win a few prizes in the meantime.
#8) Tiffany Derry (35): For those of you who watched last season, Tiffany D. had a middling start but after a mid-season high week, had a 6-week high or win run before she was finally eliminated just before the finals. If this week's high note has given her enough confidence to fight for a place in the competition, then we should expect to see some good things from her. If not, then faced against tougher competition, she may not be good enough. She's a crowd pleaser in her winningest moments, and it would be nice to see her win a trip, or a car, or some cash. She's certainly good enough for that. I'm not expecting Tiffany to make the finals, but I'm prepared to give her one more week to sort things out. After all, stranger things have happened.
#9) Antonia Lofaso (30): We could debate the merits of whether or not Antonia was responsible for fucking up the dish that ultimately sent Casey home. We could also debate the merits of whether or not it was Antonia's fault that the joint-dish she and Jamie created was ruined as per Antonia's suggestion, as the camera shot shown during the episode seems to imply. It won't matter, because this week Antonia cooked up a foul-looking, but apparently great tasting piece of shrimp toast. I don't believe Antonia deserved to go home this week, after all, contestants are there to show what they can do as individuals, not what they can bring to the table in team spirit. It's a great strategy to look out for yourself, girl, but if you're not bringing you're A-game all the time, it won't matter much, anyway.
#10) Fabio Viviani (27): Full disclosure: I thought Fabio was done for when he showed up and found out the oven didn't heat over three hundred degrees. Then through some wild Italian miracle, the ribs came out looking all sorts of delicious. Too bad for Fabio Winnie the Pooh wasn't the guest judge; he would have put a hurtin on that honey sauce. Even without him, the judges ranted and raved, and the man most thought was done for propelled himself to another near victory. I'm still not convinced he has any hope of winning, but as non-contenders go, he's certainly fun to watch.
The Happy To Be Heres
#11) Carla Hall (23): Let the record show after four weeks in dead last, Carla no longer occupies the basement. That's not to say this week was her finest effort. Certainly her bland rolls in no way competed with her winning soup, but they were arguably the most edible dish that ended up among the bottom five. Plus, they looked phenomenal. Knock Carla's creativity or decision making skills all you want, those rolls were wrapped with technical proficiency. She's already beat six people. Let's see how much further she can go.
#12) Jamie Lauren (22): I have a conspiracy theory that the judges are keeping Jamie around a little longer to wheedle a little more bitterness, self-loathing, and disconcertedness from their remaining contestants. Just kidding, but Casey's chicken feet must have been horrible to have allowed Jamie to stay for one more week. Even if you blame the soggy beans on Antonia, there is no excuse for the poorly executed scallop dumplings that Jamie produced this week, just as there is no excuse for her performance thus far. Though she was high in week one, since then, Jamie has produced zero dishes that have been deemed desirable, and two out of her last four conceptualized dishes have not even been tasted by the judges. Even if she manages to redeem herself here and make it to the finals, she should be embarrassed by her early-on performance. She's like that kid in gym class who fakes asthma so they don't have to run the extra mile. Man up.
Here's a look at how each of the three ballots shook out:
Mack:
Richard (18)
Angelo (17)
Marcel (16)
Dale T (15)
Tiffani (14)
Tre (13)
Tiffany (12)
Mike (11)
Antonia (10)
Fabio (9)
Carla (8)
Jamie (7)
Brain:
Richard (18)
Angelo (17)
Tiffani (16)
Marcel (15)
Mike (14)
Dale (13)
Tre (12)
Tiffany (11)
Antonia (10)
Fabio (9)
Jamie(8)
Carla (7)
Jessica:
Richard (18)
Angelo (17)
Dale T (16)
Tiffani (15)
Marcel (14)
Tre (13)
Tiffany (12)
Mike (11)
Antonia (10)
Fabio (9)
Carla (8)
Jamie (7)
Your Daily Blend of Entertainment News
Thank you for signing up to CinemaBlend. You will receive a verification email shortly.
There was a problem. Please refresh the page and try again.