Top Chef All-Stars: Power Rankings Week 6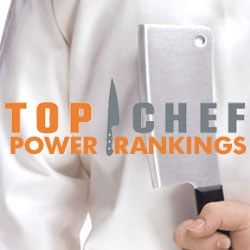 There's something inherently more scary about the double elimination. The favorites may screw up during a normal week, but the judges can rationalize it and send someone worse home. Not so with episodes like this last one. Richard and Marcel combined to lay a foamy egg, jeopardizing themselves and third wheel, sous chef Fabio. Luckily for the guys, Jamie continued her consistent awfulness and Tiffani neglected to remove the bloodlines on her fish, thus combining to cock-block Antonia's brilliant dish out of a trip to Amsterdam. There's no time for hard feelings when the rest of your time is sent packing though.
For the first time ever on Top Chef: Power Rankings, we have a new number one. Richard's idiotic decision to only prepare one dish cost him two first place votes, enough to send Angelo, once again excellent, vaulting over his head and into the top position. As for the rest, Dale continued his steady climb up the charts, Fabio tumbled into last place, and Carla once again made us all look like fools. We may not be ready to join her in hooty-hoo calls, but she's certainly earned the right to not languish in last. In keeping with this colossal shake-up, you may notice there is no longer a happy to be here category. There are ten chefs left. All have proved they can compete and finish at or near the top.
The Top Chef: Power Rankings are an averaging of three ranked lists put together by Cinema Blend writers Mack Rawden and Jessica Grabert, as well as professional poker player and food enthusiast Brain Carraher. 18 points are awarded for a first place vote, while this week 9 were given for a last place vote. The bottom 8 have already been eliminated and therefore aren't choose-able. Here's how this week's rankings played out…
The Favorites
#1) Angelo Sosa (53): Angelo's rise this season has sort of been like the 1980 U.S. Miracle On Ice team. Everyone expected him to be a smart competitor, but not everyone expected him to be a contender for the win. This week, Angelo, along with teammates Tiffany and Mike, ended on a high note. The only thing that may have shot them in the foot was only creating group efforts, rather than putting a stamp of individuality on the dishes. Judging by the eaters' comments, they were still top notch, and Angelo and his team live on to tackle restaurant wars. This first place was earned.
#2) Richard Blais (52): How disappointing. For a while, I fully expected Richard to amass every single first place vote for the entire competition, but sooner or later, you have to stop relying on talent and actually perform. Richard, Marcel and Fabio's dish was a mess, a bowl full of different ideas and unrealized expectations. It's one thing for a mediocre competitor to accept another's direction, but Richard should be assertive enough to control his own fate. The lesson here: do your own dish.
The Contenders
#3) Dale Talde (48): Before Carla was announced as the winner, I was fairly confident Dale was ready for his second consecutive elimination win and third overall. There's something about his swagger this season, far less aggressive than in year's past, yet quietly assured, like a fighter that got knocked on his ass and trained twice as hard for his next bout. I'm not sure he's quite in the Richard and Angelo league yet, but he's certainly a better fisherman. I doubt that skill will be useful again this season, but it's something solid for the resume, if he ever needs a resume again. I would pay to eat at this man's restaurant. Wouldn't you?
#4) Marcel Vigneron (42): The foam that nearly sent him home is the ingredient haunting Marcel this week. The foam was white and stark against an otherwise colorful dish. It didn't even look appealing. Though, to be honest here, it wasn't the bombastic dish that sent Marcel, Richard, and Fabio up the creek without a paddle, it was the absence of other dishes. It was horrible miscalculating on their part to create only one dish in a team effort. Even if this dish had been outstanding, it still could have been a recipe for sending the team to the bottom. Marcel should be counting his lucky stars that Tiffani's dish wasn't up to par because we all saw Jamie's terribleness coming. Richard cooked a nice piece of fish, Antonia had the best dish of the evening, and Fabio really wasn't to blame for the ideas on the plate. Dodging a big bullet once is easy, Ozymandias knows all about that, but since Marcel ain't no superhero, any future dodging attempts could prove fatal.
The Dark Horses
#5) Mike Isabella (40): Mike was good this week. Unlike Fabio, he popped off when his teammates were treating him like a sous chef, and the judges all praised his skilled chef work in cooking his team's fish. Should we be prepared to expect this over the long haul? I'm not quite sold yet, but he should prove a very reliable hand for someone's team in restaurant wars. That's the thing about Mike. Often, when he winds up on the bottom, it's because of a sketchy idea. As for the actual cooking part, he's almost always singled out by the judges for his execution.
#6) Antonia Lofaso (39): So close to cracking the top half for the first time in the Power Rankings. This is two weeks in a row Antonia has crushed the elimination challenge but been screwed by outside factors. Two episodes ago, she decided to make a single dish with Jamie who overcooked the beans. Her other effort would have easily landed her on the top. This time around, she once again delivered, but her teammates, Tiffani and Jamie, were so bad they both were eliminated. I'm not sure I've ever seen anyone make the best dish but wind up on the bottom because the entire rest of their team sucked ass. Well, let me back up. I've never seen that happen outside of Restaurant Wars. Sorry, Antonia.
#7) Tiffany Derry (37): This is week two with a high score for Tiffany, and if her sails are set on the right winds, she could be setting herself up for a future win. The incredible team input she, Angelo, and Mike showed was the best part of the episode, but also may have been what kept one of them from a win. The fact that each of them created and executed every element of their dishes together must have made it difficult for the judges to discern exactly who was responsible for what. Here's to hoping restaurant wars will allow Tiffany to keep her team abilities, as well as shine on as an individual. Cause in this competition, John Lennon wasn't correct—not everyone will shine on, some will just be eliminated. If you're feel like bitching about it, have a bed in for peace.
#8) Tre Wilcox (36): It's a good thing Tre ended high this week, because his performance has been as bumpy as a wooden rollercoaster, with more highs and lows than you could count on one hand, if you're including quickfires. As I said, it's a good thing Tre ended high this week, because he is going to need as much momentum as he can get when Restaurant Wars returns to Top Chef, dredging up the ghost of kitchen nightmares of the past. In season 3, Tre was sent home during his second round of restaurant wars. Only time will tell if three's a charm or a distinct recipe for disaster.
#9) Carla Hall (31): Carla may not have technically moved up the ladder this week, but she did bypass Fabio and pick up 11 points from Jessica. It's a bigger testament to her that the entire happy to be here category has been eliminated. Carla resided there from the beginning, but she's now outlasted 8 other chefs and won 2 elimination challenges. Maybe she should be higher. Maybe she really is more of a threat than any of us have given her credit for. Check back with me in a few weeks.
#10) Fabio Viviani (27): Fabio ended up in the bottom this week, and I think we should just go ahead and blame it on the lack of gnocchi. All jokes aside, Fabio worked with Marcel and Richard on a single dish, and he refused to take any initiative. He was watched closely by Richard as he chopped vegetables, and he didn't attempt to put any of his own spin on the dish. He may as well not have been part of the team. Which begs the question: If any of this team had gone home, would it have been more fair to send off Richard or Marcel, who added too many components, or more fair to send Fabio, who refused to add any? I always prefer the guy who takes initiative, but maybe that's because I think shooting for the middle of the pack is as much of a cop out as the most recent Kevin Smith film.
Here's a look at how each of the three ballots shook out:
Mack:
Richard (18)
Angelo (17)
Dale T (16)
Marcel (15)
Antonia(14)
Tre (13)
Mike (12)
Tiffany (11)
Carla (10)
Fabio (9)
Brain:
Angelo (18)
Richard (17)
DAle (16)
Marcel (15)
Mike (14)
Tre (13)
Antonia (12)
Tiffany (11)
Carla (10)
Fabio (9)
Jessica:
Angelo (18)
Richard (17)
Dale T (16)
Tiffany(15)
Mike (14)
Antonia (13)
Marcel (12)
Carla (11)
Tre (10)
Fabio (9)
Enthusiastic about Clue, case-of-the-week mysteries, the NBA and cookies at Disney World. Less enthusiastic about the pricing structure of cable, loud noises and Tuesdays.
Your Daily Blend of Entertainment News
Thank you for signing up to CinemaBlend. You will receive a verification email shortly.
There was a problem. Please refresh the page and try again.