Tosh.0 Preview: Tosh Vs Evolution Of Dance Guy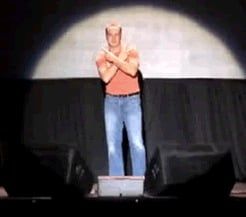 Do you think Tosh stands a chance in a dance-off against the Evolution of Dance guy? Find out tomorrow night on Tosh.0. Video promo ahead!
As Tosh.0 is all about the internet, it seems fitting that Tosh should go head to head with the star of one of Youtube's most viewed videos of all time, Judson Laipply. Below is the promo for the segment and further down you'll find the original Evolution of Dance video, in case you haven't seen it or you're due for a re-watch.
Tosh.0Tuesdays 10pm / 9cPreview - Web Dance Off - Evolution of Dance Guytosh.comedycentral.com
Tosh.0 airs Tuesdays at 10/9c on Comedy Central.
Since it never gets old, and to spare you the effort of searching for it yourself, here's the original "Evolution of Dance" video: