The Travel Channel Greenlights Three Series Including Feed The Beast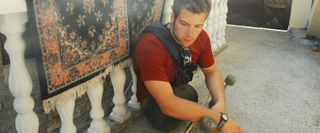 Food is undoubtedly one of the biggest aspects of travel. It may seem like an oversimplification but tasting, or perhaps more importantly, being aware of any problems one may have with the local cuisine is a necessity on any excursion, which may be why The Travel Channel's programming slants so heavily towards culinary programs. However, while one of three new shows recently greenlighted by the network once again focuses on food, Travel is going 'off the menu' with the other two.
First, let's talk about the new food show since that's The Travel Channel's bread and butter at the moment. Hosted by 'late night foodie expert' (you can really be an expert in anything these days, I want to be the 'foods that start with the letter 'Q' expert') Mikey Roe, Feed The Beast will explore the best places to eat across the US at an hour when most establishments would be closed. It's a half-hour, weekly series that has Mikey--whose name is far too close to The Discovery Channel's Mike Rowe of Dirty Jobs fame--visit cities known for their nightlife activities to sample "concoctions that can only satisfy a late night palette" not to mention interact with the chefs as well as after-hours clientele.
The next of the Travel Channel's original unscripted series is called Edge Of America and it follows travel and entertainment journalist Geoff Edgers as he road trips around the States looking into the "unexpected and bizarre world of entertainment." Edgers wants to know why we (and I'm using 'we' loosely in terms of the soon to be named events) turn to bizarre things like "Calf Testicle Festivals in Oklahoma, Lobster Boat Races in Maine [and] Tall Bike Jousting in Oregon" for amusement. Edgers will experience the American subcultures firsthand while we watch it all from the much less dangerous secondhand position.
The last series to get the go-ahead is the (working titled) Kevin Michael Connelly Project which follows the (possibly) titular author, photographer and adventurer who happened to be born without legs as he continues his "personal journey to travel the world and push past his own physical limitations." Connolly is a thrill seeker and whether it's rock climbing, skiing or just cruising around on his skateboard, he's game. Sometimes this means inventing 'rigs' to allow him to participate in said adventures but those are merely minor obstacles in his way, especially with both backyard engineers and real scientists helping him execute his newest feats, including cliff divering in Hawaii or climbing gigantic pine trees in the Smokies.
Unsurprisingly, Andy Singer, GM, Travel Channel, was enthused to announced the new projects saying "these exciting new shows and talent offer our viewers highly entertaining, fresh perspectives on travel... Their authentic points-of-views provide a diverse range of programming that reinforce our mission in re-imagining travel entertainment." To be fair, they do sound pretty interesting. I love late night food, calf testicles and inspiring journeys, although not necessarily in that order.
Your Daily Blend of Entertainment News