Tuesday Night Drama Queen: Big Brother 7 All Stars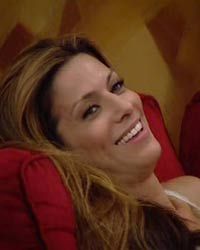 Whoever coined the phrase "Hell hath no fury like a woman scorned" could've used Janelle and Erika as prime examples. Will and Boogie pretty much had 'Big Brother: All Stars' in the bag. I credit Will for this for the most part. Let's face it; with the exception of managing to secure the ultimate "showmance", Boogie didn't have much in the way of strategy (other than going along with Will's plan which did get him to the final 4).
Before I get into tonight's episode, I think I need to go over a couple of things from Sunday night's episode as well as yesterday's live feeds.
Sunday's episode of 'Big Brother' focused a lot on "Operation: Double Date". They showed Boogie conning Erika with talk of their future and even musing about having a baby together. Will continued flirting with Janelle, stroking her ego and convincing her that Erika was a b*tch that had to go. Erika talked in the Diary room about how great it was to find love in the 'Big Brother' house. The episode made Janelle and Erika look extremely gullible while Chilltown came out looking like the ultimate schemers.
Up until yesterday, fans of Janelle and Erika shared mixed feelings of pity and a failing sense of hope that these girls would realize what was happening. As though Erika could hear our pleas, she finally went to Janelle last night (Monday) and talked to her about some of the things Will said about Janelle. At first it seemed like general campaigning – after all, this was Erika's last chance to appeal to Janelle. But after the two girls started opening up more about Chilltown, they both seemed to realize that they were getting played and that along with the fauxmances, Chilltown was pitting the two women against one another.
Once they started going over what Chilltown was saying to them and the deals they made to split the money, it was clear that these two women had finally realized the depths that Chilltown had sunk to in order to get as far as they had and that they (Janelle and Erika) probably looked like total fools for not seeing it sooner.
The live episode started promptly at 8 pm EST. They took us through the Power of Veto competition and the feed watchers yawned because we all knew Janelle won it. Then Julie talked to the four houseguests live and asked them about the showmances. All agreed they would be friends after the game but no one committed to more. Boogie might've been able to redeem himself with Erika by saying nice things about their relationship but he kept it vague and noncommittal.
The real treat didn't come until the live eviction. As Veto-holder, Janelle got to take herself off the block and Boogie had to put Will up in her place. Janelle, being the only contestant eligible to vote (Boogie couldn't vote because he was HoH), kept her speech simple. To sum it up, I'll just quote one part of it; "I'm done making mistakes". She then voted to evict Will.
Will's brief interview with Julie was full of his usual charming diplomacy. No ill will against Janelle… respects her game-play… still be friends… etc. etc. The good-bye messages included Boogie's predictable "You're my best friend" stuff, Erika telling Will that she's now on to Chilltown's game and to have fun in sequester (according to the feed recaps at jokersupdates.com, she apparently was allowed to re-record her good-bye message today after her conversations with Janelle last night) and Janelle basically recanted her eviction speech.
Part 1 of the 3-part final Head of Household was an endurance competition. They all climbed up onto a volcano, standing on posts facing outward with their arms above them. They had to clutch the key above their heads. Whoever let go last would win part 1 and be eligible to compete in part 3 of the competition, which will take place later this week. All three get up onto their posts and clutch the key. Within the first minute, Boogie calls out to Julie and jumps down mentioning 'Survivor's' Richard Hatch and that there's no way these girls will bring each other to the final two. After the commercial break, Julie tells Janelle that she took her hand off her key. Julie announces that Erika has won the first part of the final Head of Household competition.
A bit of commentary here – Ok, Boogie, we get that you're devastated that Janelle ruined your Bromance by evicting Will but your little show with jumping off the volcano just seems foolish to me. You need this Head of Household win. - If Erika is sincere in her anger at being used and humiliated (she really doesn't know the half of it and will surely get the rest once she's out of the house) she won't bring Mike to the final two regardless of her chances at the money. Janelle loathes Boogie. Her only tolerance of Chilltown was due to Will's irresistible charm.
The fact that the endurance competition (which usually lasts for hours) didn't even last to the end of the episode was a bit of a shock but Erika winning it wasn't. Even if Janelle's hand hadn't come off the key, Erika is physically stronger (despite her narrow frame). She's a pilates instructor and had an advantage over both of them.
Who will win part two of the competition and who will go on to win the final Head of Household? Let's hope its not Boogie! I wouldn't have minded a smug Chilltown seated in the final two or even Will sitting next to Janelle but these girls started something with Will's eviction. If they get to the final two together it'll truly be an All Stars finale.
Here's a clip of Janelle and Erika glowing after tonight's episode…. "Who's the bunny now, bitch?"
Your Daily Blend of Entertainment News
Assistant Managing Editor
Kelly joined CinemaBlend as a freelance TV news writer in 2006 and went on to serve as the site's TV Editor before moving over to other roles on the site. At present, she's an Assistant Managing Editor who spends much of her time brainstorming and editing feature content on the site.