Ugly Betty Finale Update: Another Romance Scenario On The Table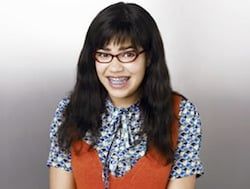 I'm sure those of us who are disappointed to see Ugly Betty come to an end are hoping that at the very least, the show gets a proper send-off and our girl Betty gets some kind of happy ending. Will Betty end up with Daniel, Henry, Gio or some other guy? Or will the series end with Betty on her own? Minor spoilers ahead!
E!'s Kristin Dos Santos posted in her blog that her sources say the that the writers are currently leaning towards an ending that has Betty happily on her own and headed to a foreign land for a new job. Huh?!
Dos Santos described it as a "Kelly Taylor-esque 'I choose me'" ending and to that, I said, boo! If we're comparing Ugly Betty to the original Beverly Hills, 90210, then Betty should be the Donna in this situation, not the Kelly! Donna ended up with her happily-ever-after and I'm going to come out and say right now that I think Betty deserves that too. This is not to say that a girl needs a man on her arm to be successful, however as a character, Betty Suarez has proven to be independent and fully capable of handling single life. Sure, she's had a handful of relationships since the series started but she's never been one to wallow in loneliness when she was between relationships. Seeing her trot off into the sunset, happy and single wouldn't be a horrible ending for her character but I'm not sure it would be an exciting ending for the series.
Let's look at Ugly Betty as a show. It starts off with a braced-mouthed, poncho-wearing, over-enthusiastic dorky fish plucked out of Queens and left to flop around in the middle of the fashion industry, and has evolved into a show about how that fish changed herself to adapt to her new environment and how the environment inevitably began to adapt itself to include her. I could go on for paragraphs about how each character has changed thanks to Betty's influence and how their influence has helped Betty grow and come to know herself better, for better or worse. Daniel being the most changed of everyone.
So why does she need to end up alone? I don't know. Maybe I've just been waiting to see the spark between her and Daniel turn into something more. Perhaps with less than a season left to develop that relationship, that ship has already sailed. And according to Dos Santos' source, "key people do not want that to happen." That's a shame, if that's the case. The idea of seeing Betty and Daniel, who started out as polar opposites when the show first began, exploring the possibility of a romance together would've made for a good ending to the series.
What do you think? Would Betty be better off alone at the end? We all know she's optimistic enough not to let single-ness get to her. Maybe it would be for the best to leave it open and let the fans imagine a fate for her? Or do you think the writers need to buckle down and make a decision on one of the men in Betty's life that could be her true love?
As for the minor spoilers, I should also mention that Dos Santos said Betty will get her braces off before the end of the series (no surprise there), Amanda will hook up with Daniel's half-brother and Justin will kiss a boy.
Your Daily Blend of Entertainment News
Assistant Managing Editor
Kelly joined CinemaBlend as a freelance TV news writer in 2006 and went on to serve as the site's TV Editor before moving over to other roles on the site. At present, she's an Assistant Managing Editor who spends much of her time brainstorming and editing feature content on the site.