Walking Dead Season 1 Gets A Special Edition With Extra Bonus Features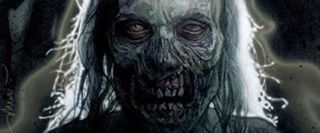 And now from the "Most Likely to Piss Off Loyal Fans" department: today Anchor Bay Entertainment has announced a new special edition of The Walking Dead: Season 1, which will include tons of new bonus features, including audio commentaries on all six episodes. Sounds great, right? Well, not if you're one of the folks (hi!) who already paid to buy the season one set last March, which includes a fraction of these features.
Sure, double-dipping is hardly a new phenomenon in the DVD world, but tossing out a feature-filled special edition a little over six months after the initial release? As a friend put it, "kind of a dick move." The new edition is slated for October 4th, timed to hit shelves leading up to The Walking Dead's return to AMC for season 2, so I can understand why they'd want to target that period. But I would have rather they just held back on the release entirely until the nice version was ready.
The new Walking Dead: Season 1 Special Edition will be available in three varieties: a special edition DVD ($49.98), a special edition Blu-ray ($59.99), and a limited edition Blu-ray collector's tin ($89.99). The former two versions will net you all the new bonus features, but the collector's tin will also include a wearable zombie mask designed by Greg Nicotero, the show's make-up artist.
What do you think? Will you pay to upgrade to the new version, or are you just ticked off they didn't include the good stuff the first time around? Sound off in the comments below or over on our Facebook page.
Walking Dead Season 1 Special Edition Bonus Features
All three versions include the following NEW extras:
Pilot Episode: The B&W Version
Audio Commentaries On All 6 episodes
We Are the Walking Dead
Bring Out the Dead: KNB and the Art of Making Zombies
Digital Decay: The VFX of The Walking Dead
No More Room in Hell: The Walking Dead Phenomenon
Adapting the Dead
Killer Conversations: Frank Darabont & Greg Nicotero
Each version includes bonus features from the previous release of The Walking Dead: Season 1 on DVD that contained the following:
The Making of The Walking Dead
Inside The Walking Dead: Episodes 1 - 6
A Sneak Peek with Robert Kirkman
Behind the Scenes Zombie Make-Up Tips
Convention Panel with the Producers
The Walking Dead Trailer
Extra Footage includes:
Zombie School
Bicycle Girl
On Set with Robert Kirkman
Hanging with Steven Yeun
Inside Dale's RV
On Set with Andrew Lincoln
Image 1 of 3
Image 2 of 3
Image 3 of 3
Your Daily Blend of Entertainment News
Thank you for signing up to CinemaBlend. You will receive a verification email shortly.
There was a problem. Please refresh the page and try again.