Watch The Simpsons Get Ren And Stimpy-ized In Disturbing New Couch Gag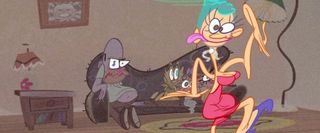 The couch gag on The Simpsons isn't always the freshest or more original, but it is remarkable how the animators have managed to come up with something new for every single episode, even after 23 seasons. And last night, they actually managed to bring out something completely unusual and new, by drafting Ren & Stimpy creator John Kricfalusi to draw the couch gag. You can watch it in the video below (via Vulture), but be warned-- if, like me, you were always a little freaked out by Ren & Stimpy as a kid, this might be a little much for you to handle.
Kricfalusi, who maintains a really excellent blog, posted a few concept art drawings there, including the image you see at the top of this post. I admit it's all a little less alarming seen as single frames, and you can appreciate the artistry that goes into, say, drawing Bart Simpson as if he's Stimpy. But yeah, I'm also still a little terrified. I appreciate the Simpsons always being willing to push the envelope in different ways-- remember their instantly controversial opening credits directed by Banksy? But it's gonna take me some time to get the gangly-legged Marge Simpson and the leering Homer Simpson out of my brain.
Staff Writer at CinemaBlend
Your Daily Blend of Entertainment News
Thank you for signing up to CinemaBlend. You will receive a verification email shortly.
There was a problem. Please refresh the page and try again.